Greece is amazing enough said. But to be more detailed I'm going to give a small itinerary of the two islands I visited and what beaches were visited and cliffs were jumped. I went to two islands, Milos and Paros, both not quite as ell traveled as the larger known ones but both even more amazing for it. 
MILOS:
Milos is a 3-4 hour ferry ride from Athens, which makes it very accessible. The benefit of Milos is how small it is and how much less busy it is than many of the other islands. I would say it is on the come up and more and more tourists will be visiting this island in the coming years, that being said it is still possible to find your private areas on this island but also very likely to be in a big group when you go to more well known spots. Most of Milos is very accessible by bus and that which is not can be accessed by scooter which are cheap for day rentals.
KLEFTIKO: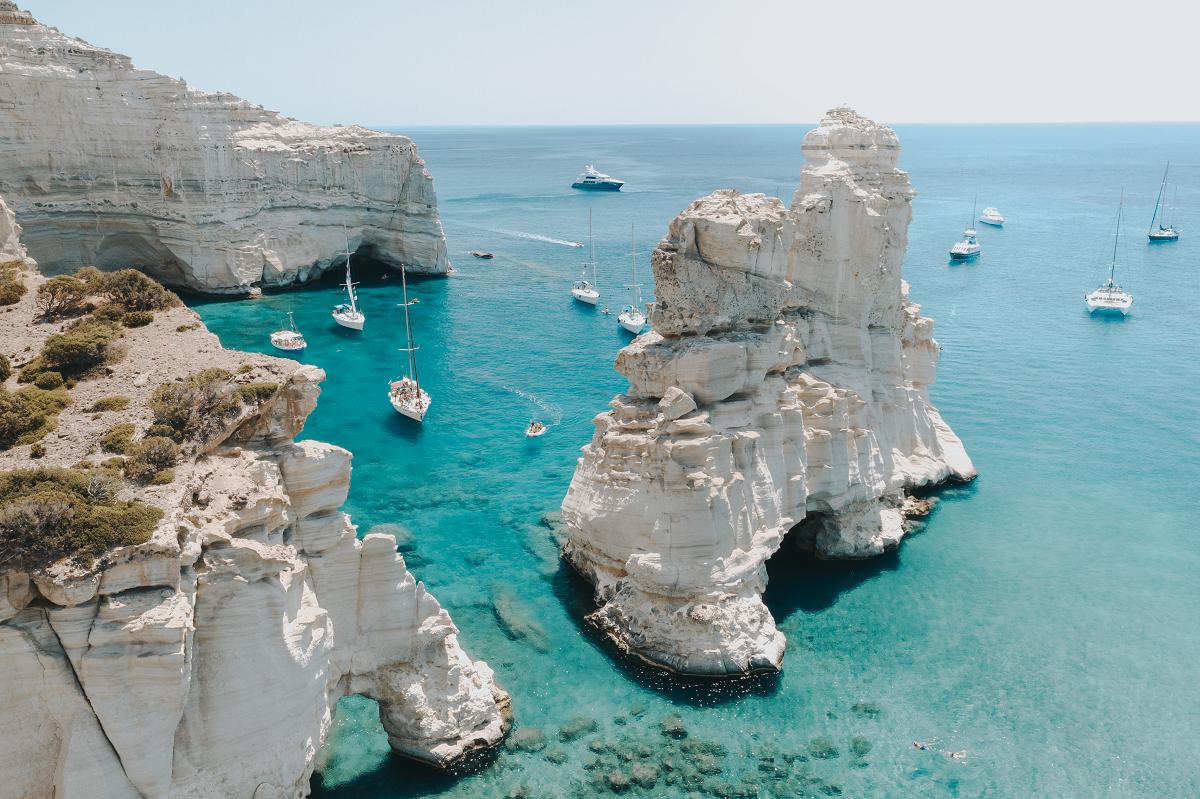 If you visit Milos there is no doubt you will already know or will be told about Kleftiko. Kleftiko is by all means a must visit while on Milos, the rock structures are beautiful and the water is perfect. There is a cave to swim through that turns the water the bluest you'll ever see because of how the light comes in. To go here you have to take a bought tour which can range heavily in price depending on the privacy and quality of food and drinks you want. Cheaper tours often have large groups and minimal food but can be thirty euros per person versus the more expensive private tours. Either way the end is the same everyone gathers around Kleftiko. There are full day tours that will bring you further past Kleftiko but the half days will stop here and make a few other stops on the way and on the way back.
TSIGRADO: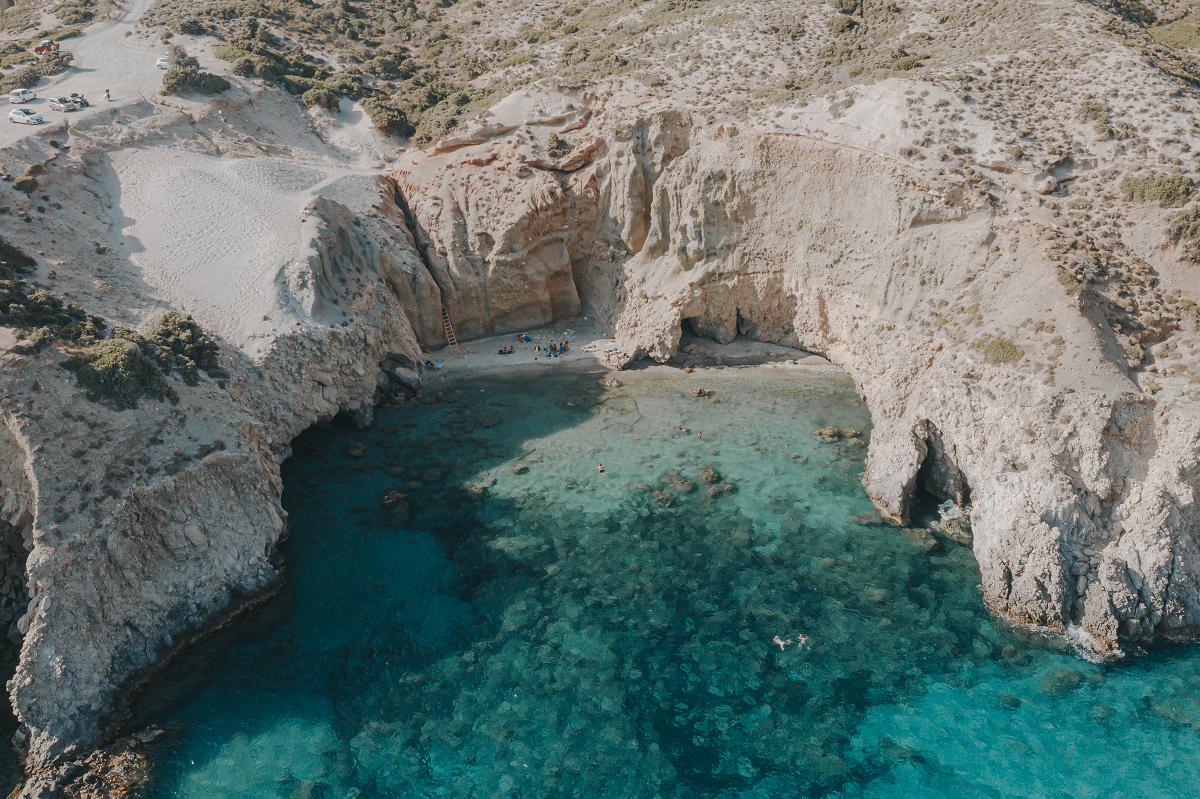 Tsigrado is a small cove like beach in Milos at the southern middle portion of the Island. The entry to the beach is accessible by buss route and a small amount of walking. To access the beach you have to climb down a narrow cavern in the cliffs (see the path where the ladder is in the picture above). There are ropes to help you lower yourself and a ladder at the end. This can be challenging for some and may make the beach a less chosen one compared to its counterpart just across from the bus stop. However, if you do decide to go to this beach there are a few sea caves to explore and beautiful gradients of blues in the water. It is definitely worth just looking at from the cliff side if the climb isn't for you.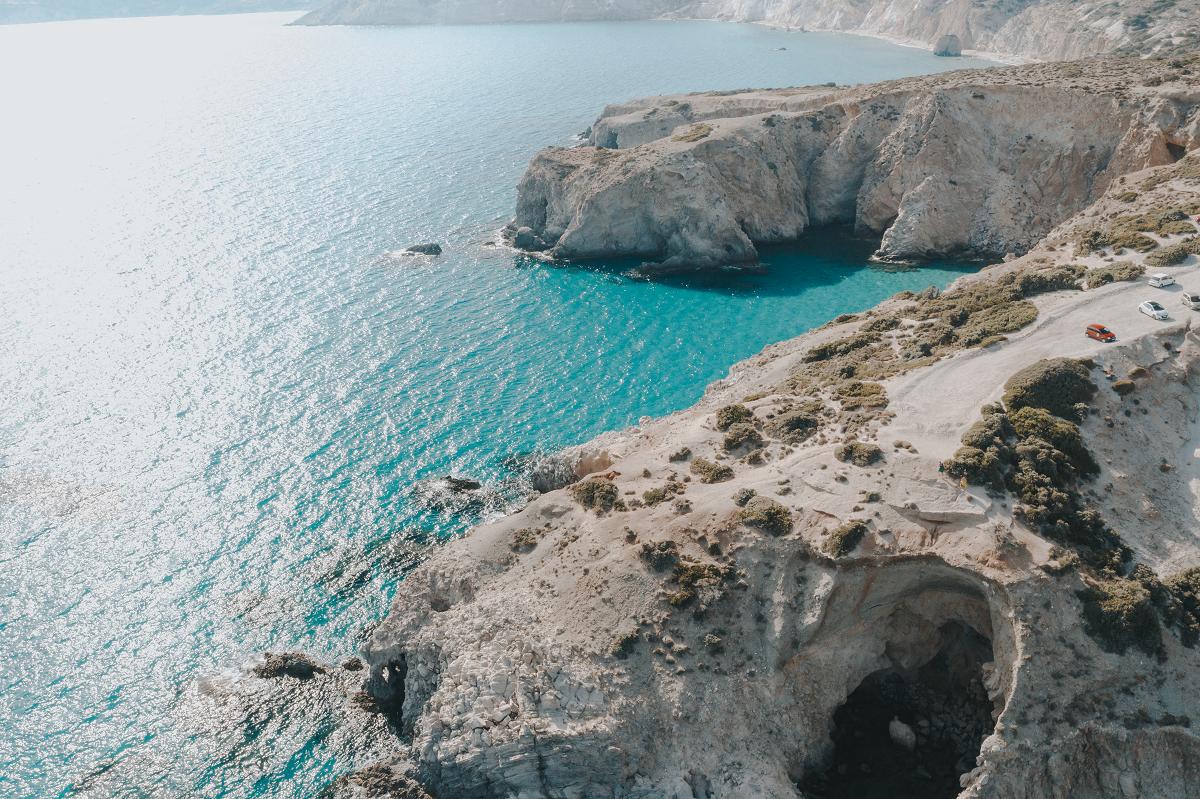 The other beach is on the other side of these cliffs and can be sen in the upper right portion of this photo.


SARAKINIKO: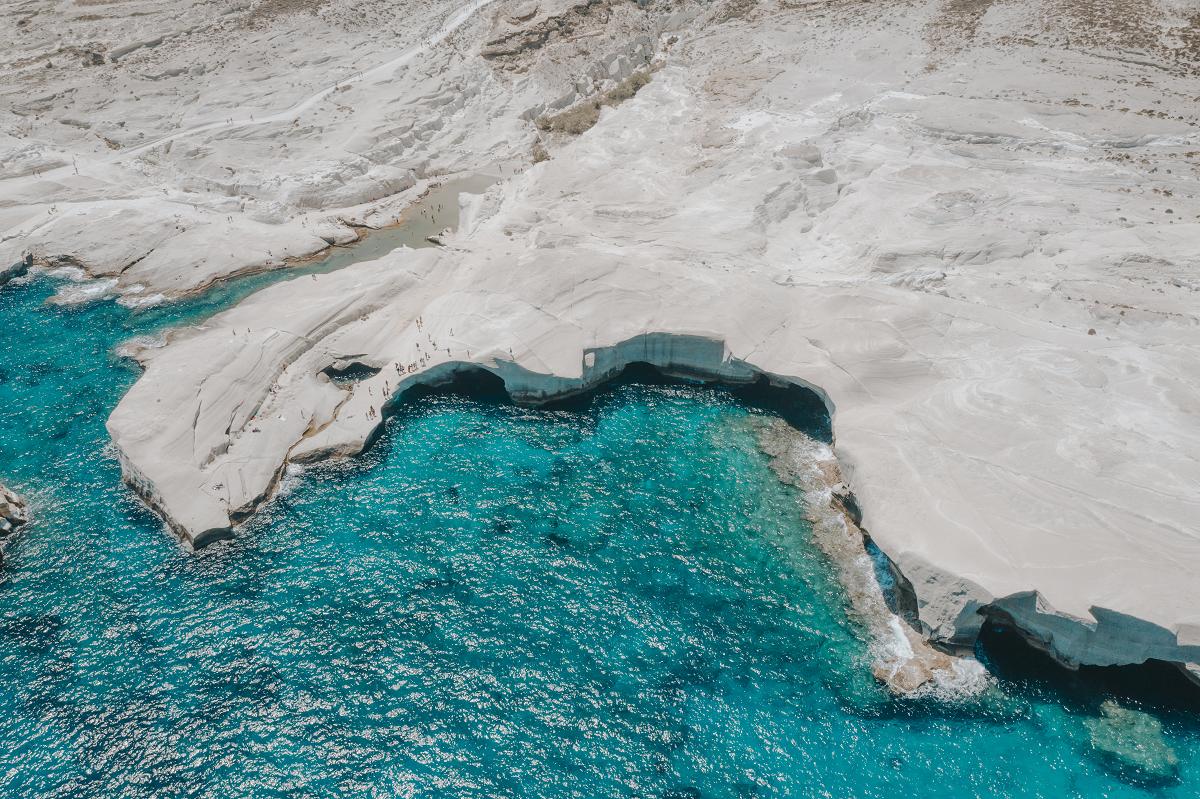 Sarakiniko is also another must visit that is accessible by bus route, and thus can get a bit busy. There are three big draws to Sarakiniko. One is how white the stones are here, you'll see most people associate it to walking on the moon because of the whiteness and craters everywhere it is incredible. Second is the cove of water that comes in (as can be seen in the picture above). It is a great place to wade in the water and escape the heat and it has a beautiful coloring to it because of the depth change that occurs, this spot can get pretty crowded so I recommend going early. Third is the cliff jumping spot on the other side of the cove. You can see in the photo above where everyone is gathered near the edge is here most jump from. It isn't a high jump by any means maybe 7 meters (21feet) at the highest point, changing with tides of course. Although it isn't high it was one of my favorite jumps because of how amazing the water was, its very deep but so clear and a perfect shade of blue you will see all the way to the bottom.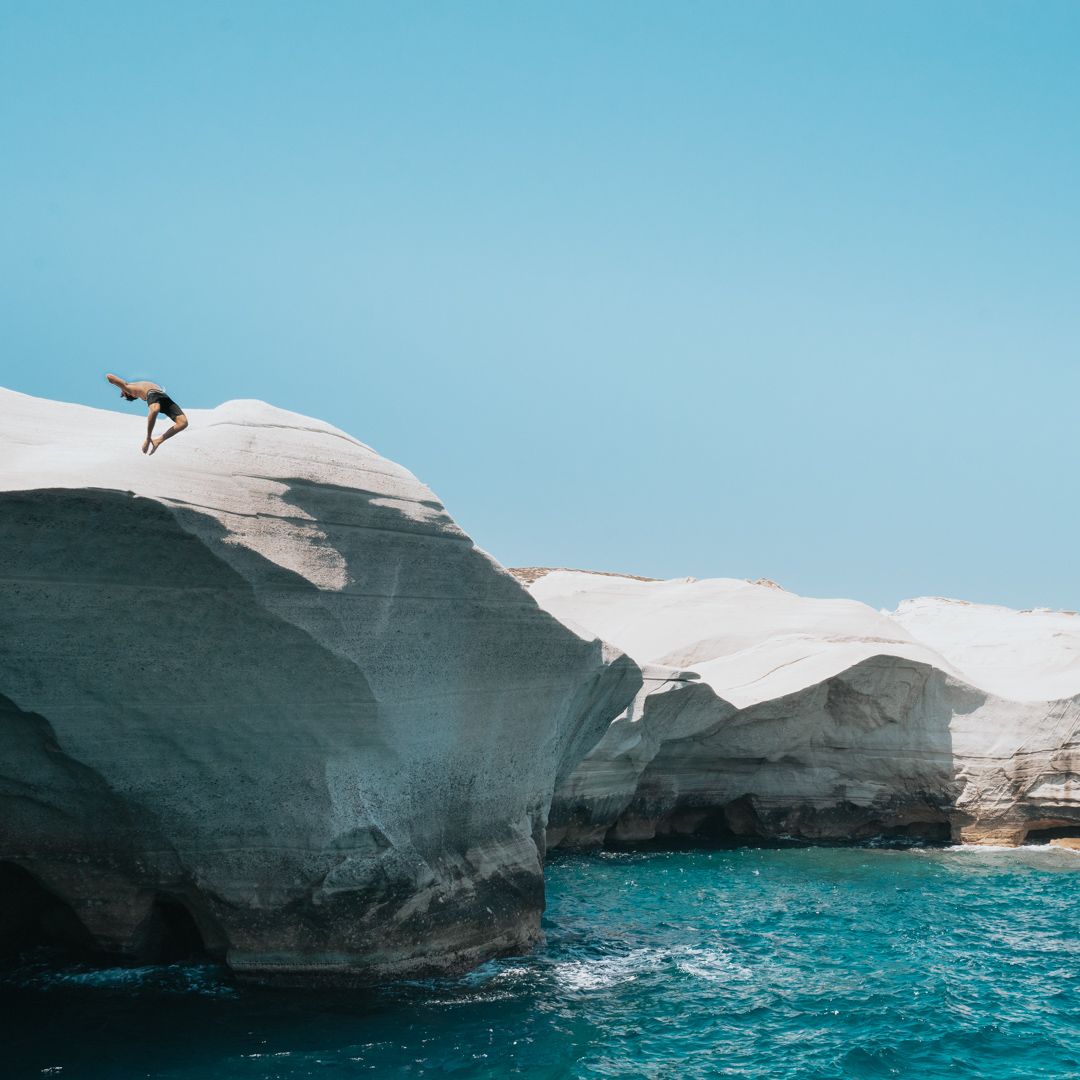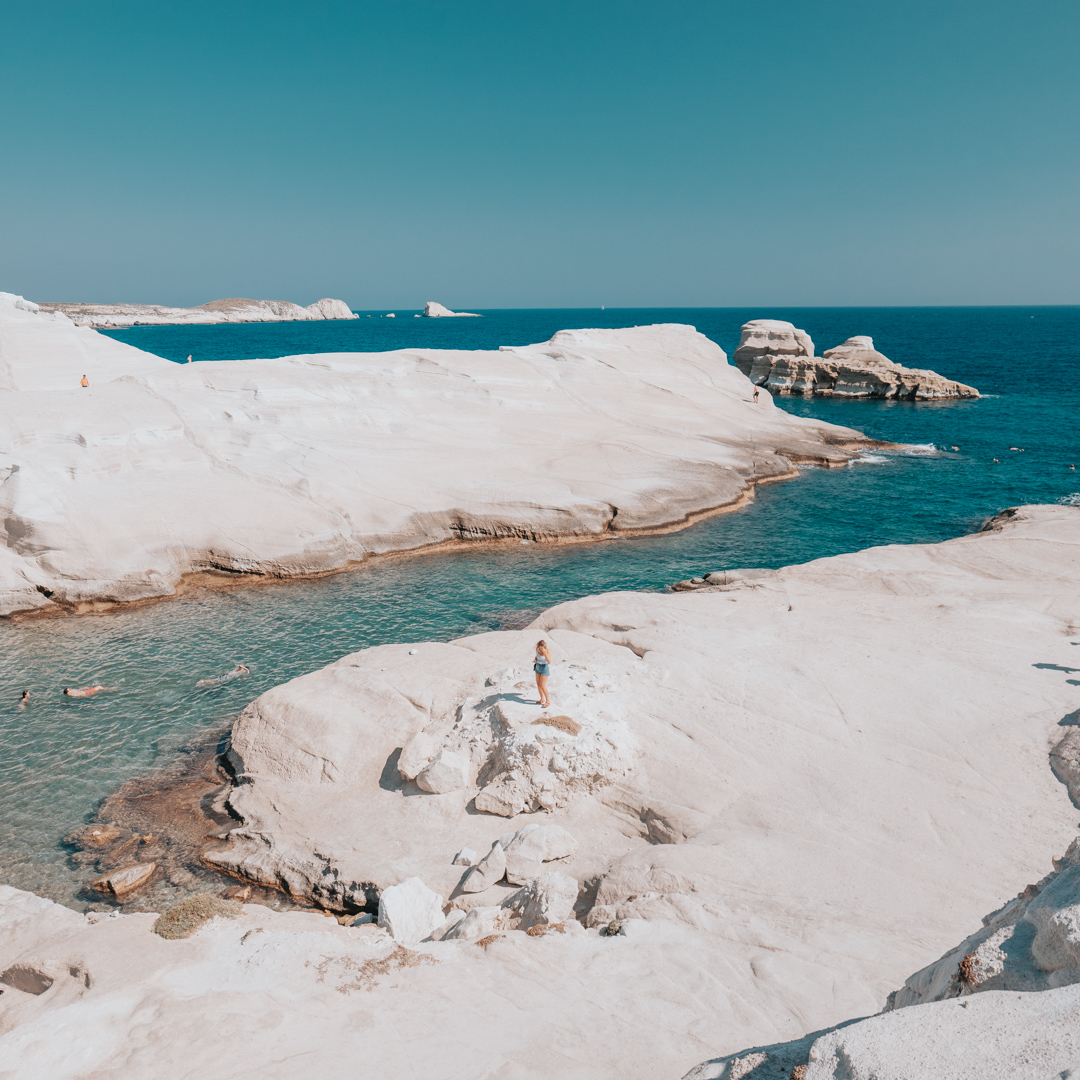 PALIOCHORI:
I apologize, I must've not saved any pictures from this beach. However, this is another bus accessible place and is great for tourists, lots of canopies and a restaurant and drink service. This beach is notable for two reasons: it is the largest beach in Milos and it is partially a nudest beach. The first section(right when facing the ocean) is the tourist zone with the beach lounges etc, will find occasional topless women here as it is Europe. The send section which is a further walk to the left up a small ridge and back down is a much less trafficked portion of the beach here you can find some seclusion. Occasionally there will be a few couples who come here and enjoy the beach nude, you can do this or choose not to no one has an issue either way. If you choose to feel comfortable knowing that it is sparingly occupied so you wont be in great eye shot of most people.
PLAKA: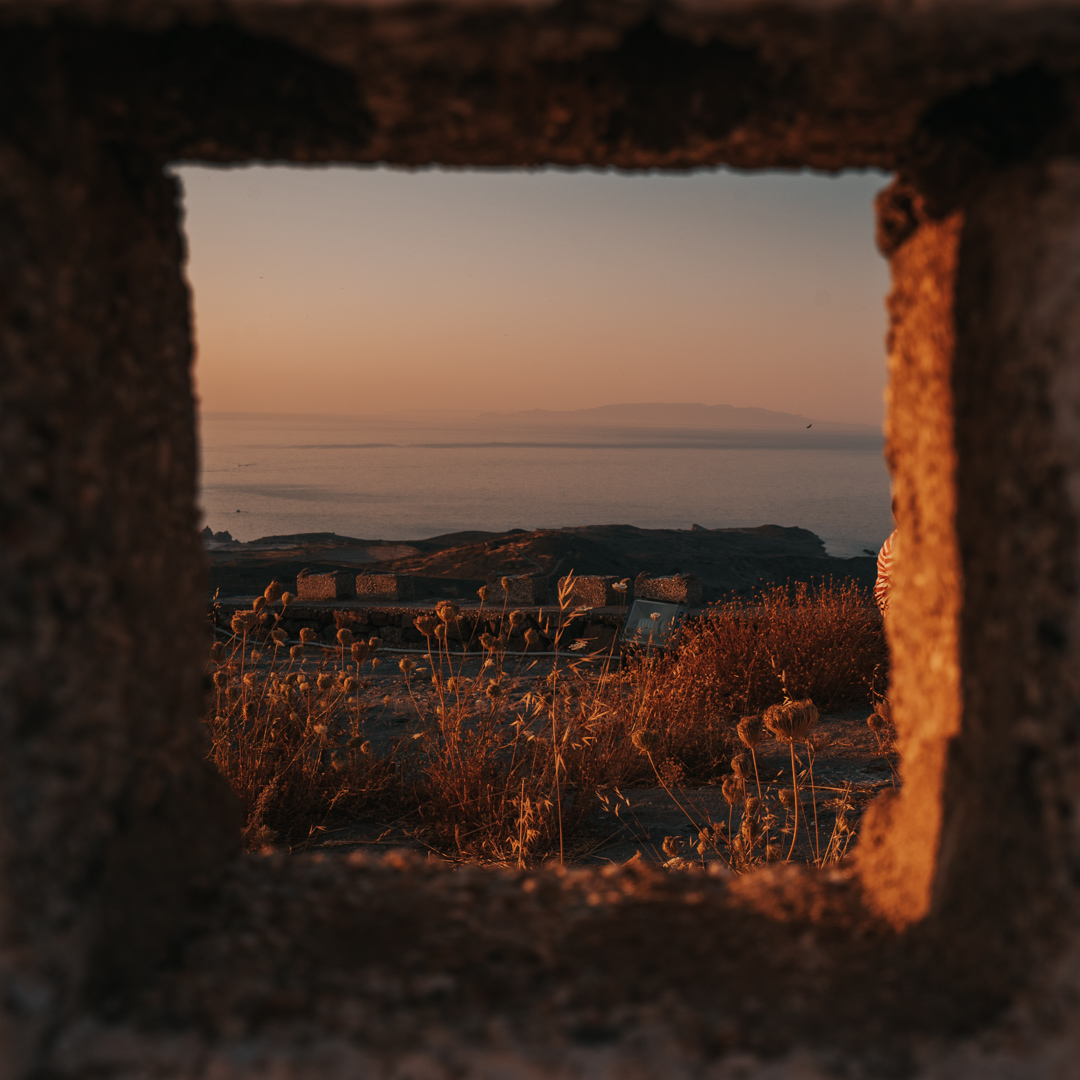 This is not a beach or place to cliff jump, rather a great place to view the sunset and get some food. If you're looking for a town with more of the classic Greek images of white walls cobble stones and blue accents some of that cam be found here, although much of the accents are green as a turn of nose to the tourist spots. There is a small "hike" up the hills of this ton and past houses and churches to reach a small old church at the top of the hill that gives the best view for sunset, if you get here early it wont be too busy but wait till sunset and it can get a little crowded.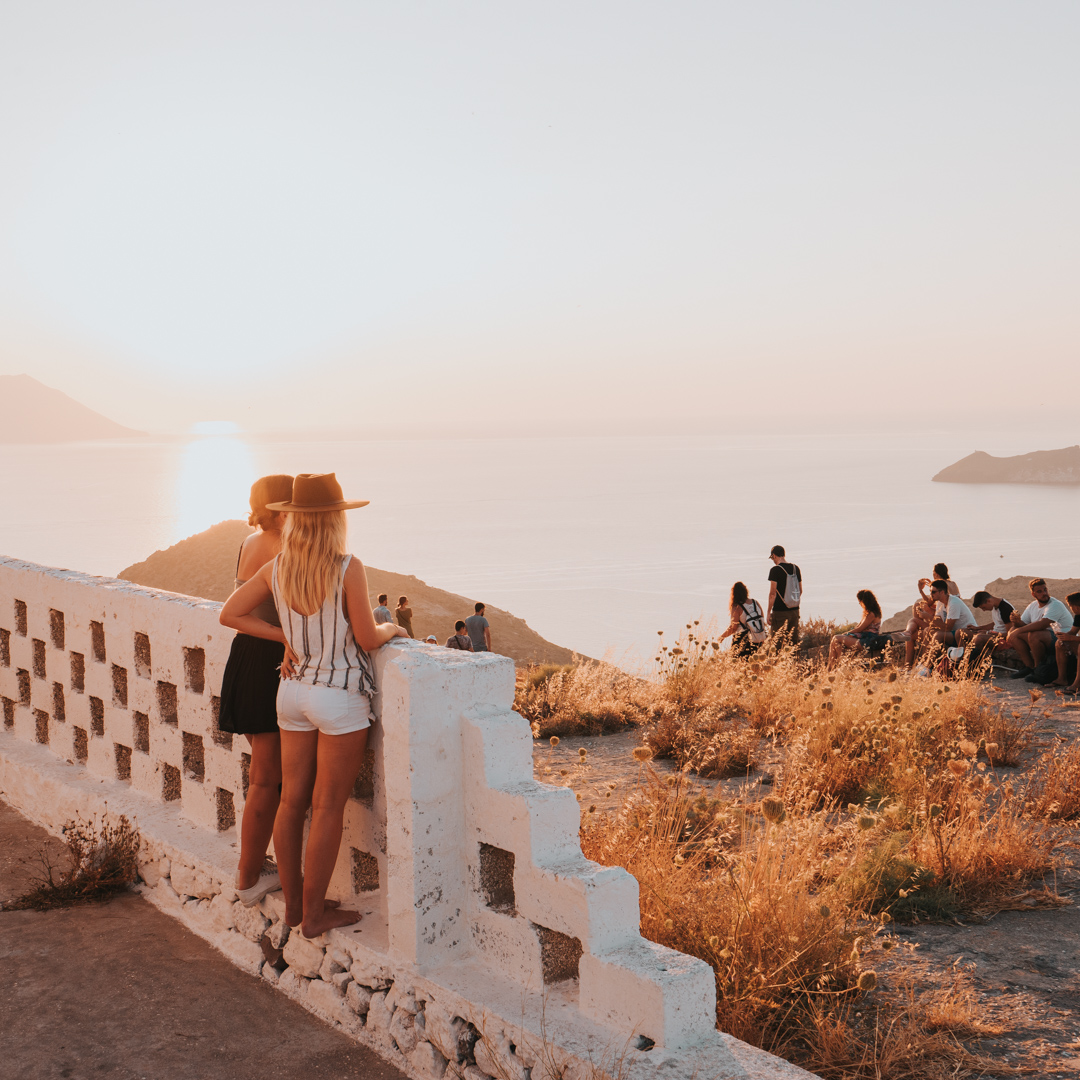 PAROS:
If you're looking for an island that is really not touristy but still has some of these amenities then Paros is the place for you. Not only is it beautiful but it can also be completely secluded. Paros is broken into two islands connected by a 15 minute ferry: Paros and AntiParos. Paros is more of the town island and AntiParos is very raw. I highly recommend renting a scooter as they are very cheap and much easier than the bus on this island, be careful of the roads because they have been very worn down and many of the turns are extremely slick. Imagine putting your foot down to stop and it slides for a bit before grabbing traction, yeah its that bad in some spots.
PIREAS:
The town of Paros which is the town the main port is in of course has the most amenities although once you get off the initial street it quiets down significantly. There are many shops off the main street that aren't overwhelmingly busy like other islands. Here you will find the classic white and blue architecture as well as some very cheap euros and even some Aussie burgers(I know not Greek but the owner and his wife are fabulous definitely worth going to if you're worn out of Greek food).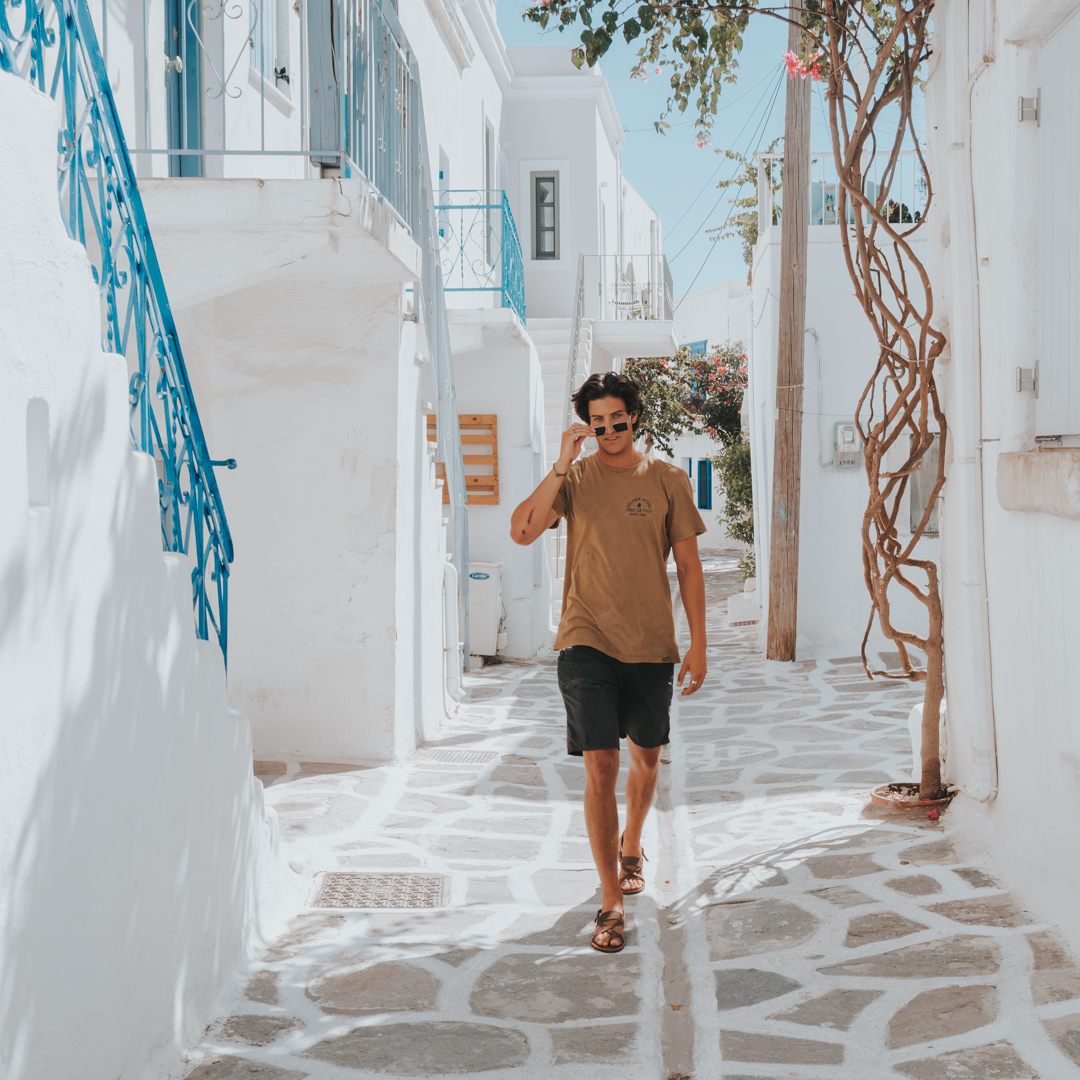 NAOUSA:
This is the most popular town by far, especially for a night out and food. You will find the classic looking streets and fancier restaurants here. I say the trip is worth it as its very close especially on a scooter. It is a place you should visit at least once just to get the feel for it and go to street vendors, see the octopus being dried in the sun and the Lukumades wow they're an amazing Greek dessert!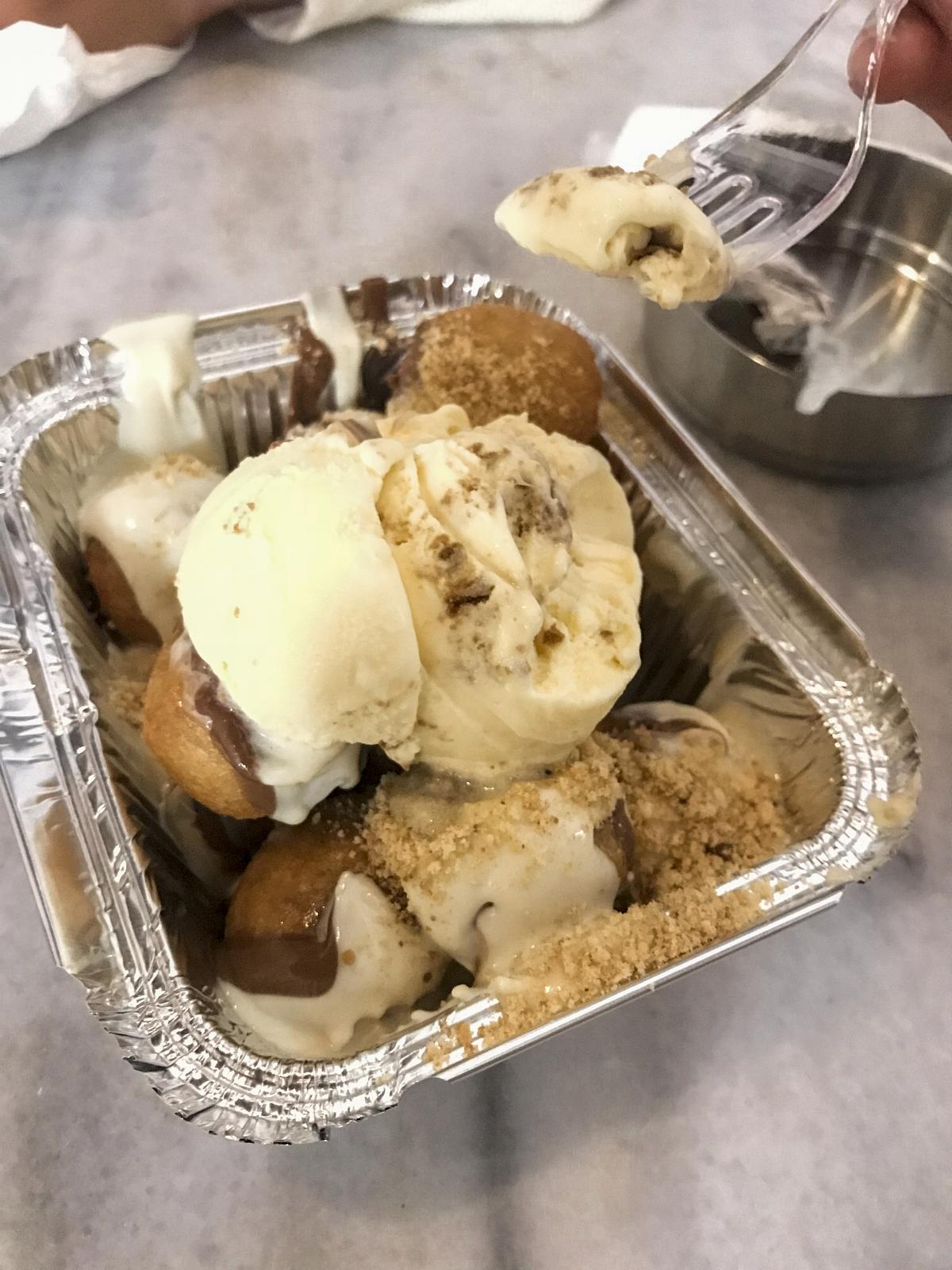 DRIVE THE LOOP:
I recommend driving the loop of Paros, it doesn't take long and stopping at different spots because the landscape is amazing. Your hotel may give you tips on where to stop on your drive or you may find some people on the street with some suggestions. I wish I still had my list but I've lost it. As you drive try and end up near the Archilochos theater for sunset there is a nice hike behind there and some great places to hang around and a small beach too.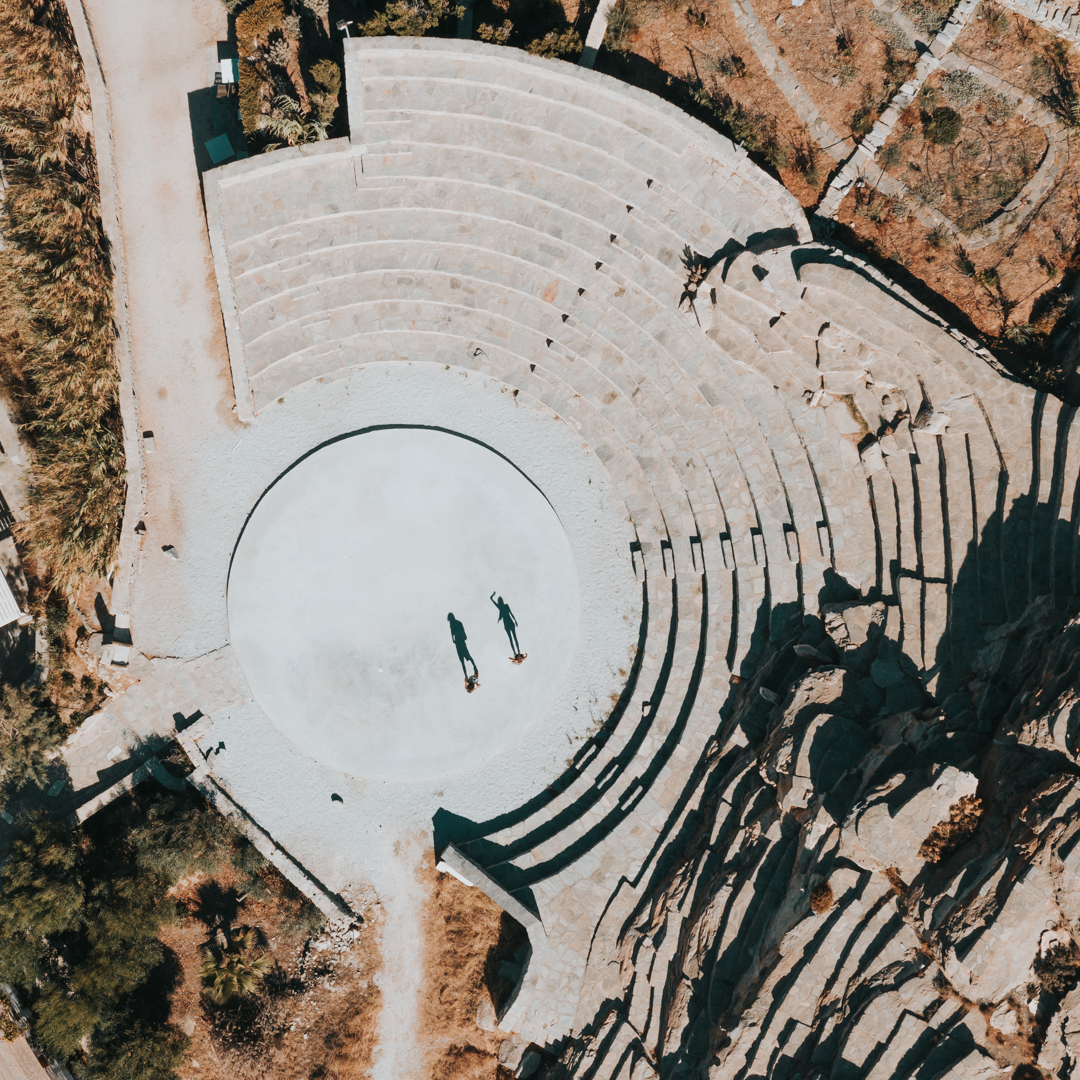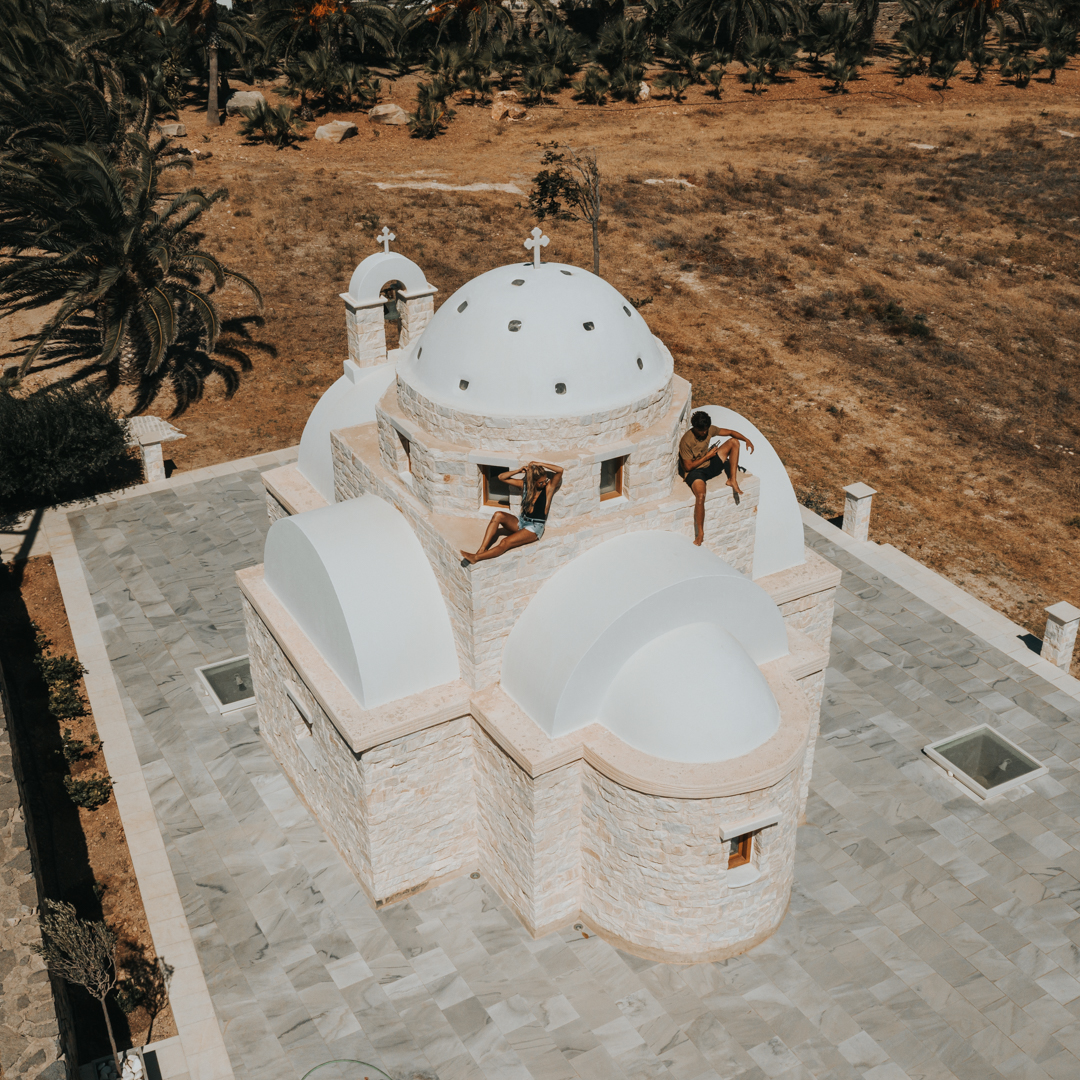 ANTIPAROS: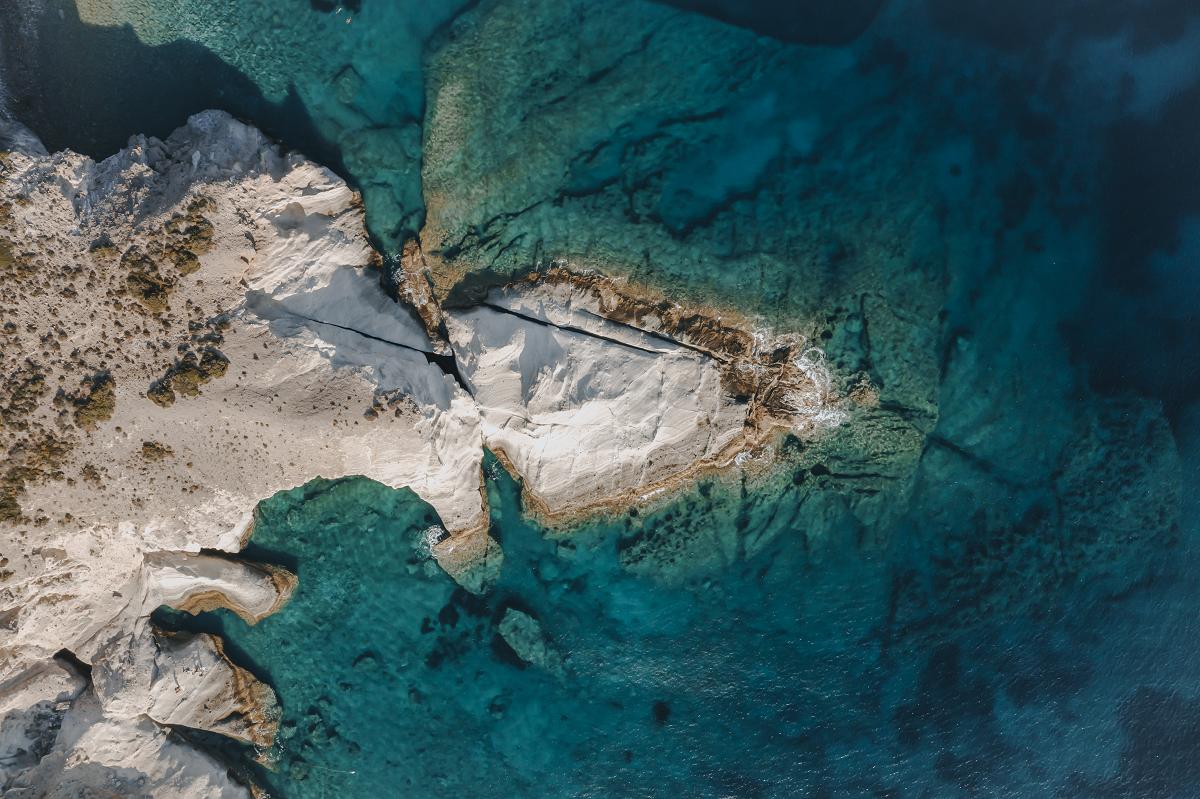 This is a "secret" cliff jumping spot in AntiParos. It is accessible both by foot and by boat. It is in the Cyclades of AntiParos. The easier way is to do a boat tour that will also bring you to some other beaches etc. However, on the faithful scooter me and my mate decide to try and find this jump via the road. Once we found the ton where the boat tours started we spotted where the cliff would probably be and then just drove random roads towards that direction. Took a lot of guessing and a bit of off roading on a mostly rock road, it was actually a lot of fun. When you get to a pretty high point there is a gate and then another rocky road down . Here we parked the scooter and walked down to be exposed to this cliff. It is very similar to Milos, not too high but beautiful. Occasional boat tours will stop by but you will mostly have this spot to yourself. Also great for sunset!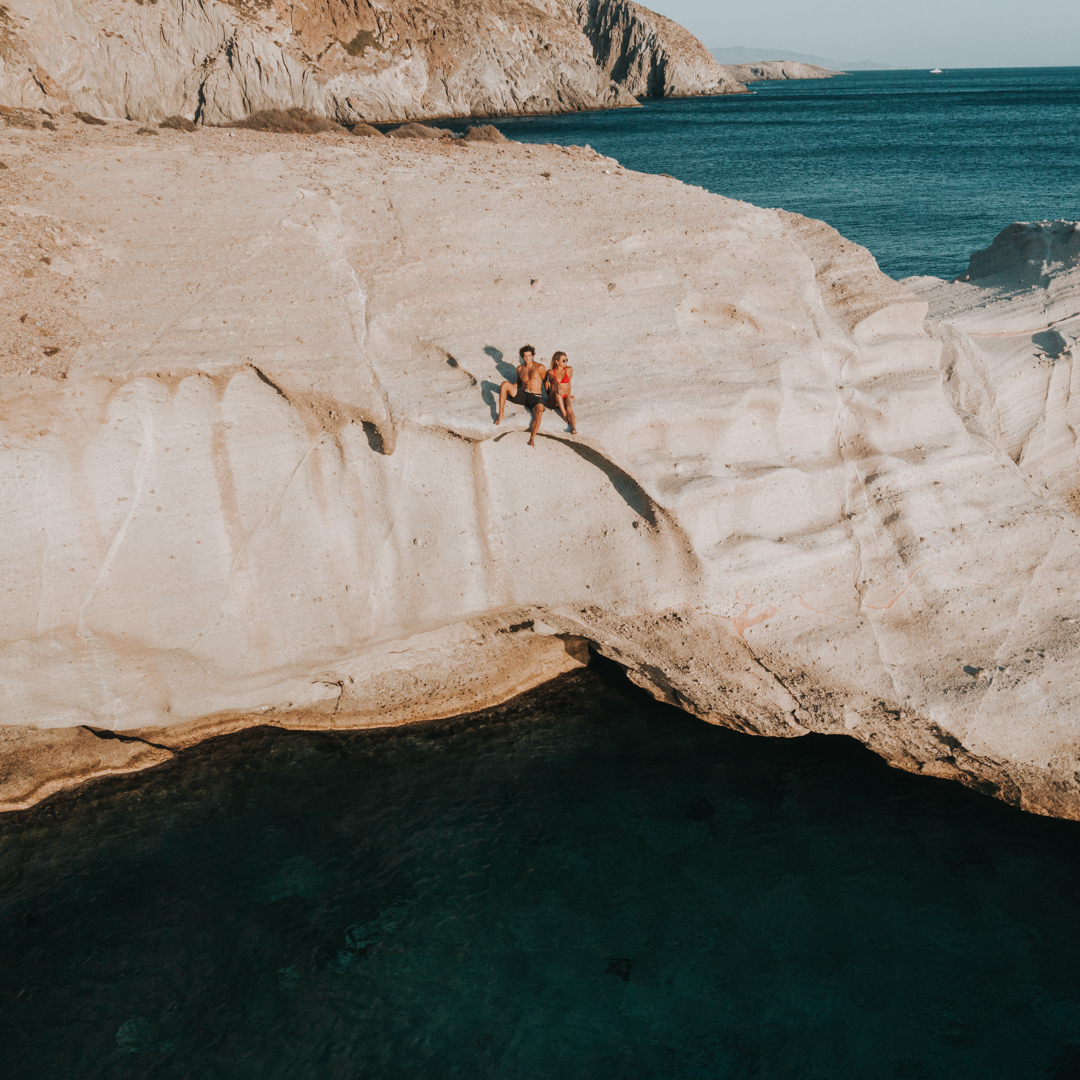 Hopefully this helps you get a bit of insight on these two islands and maybe makes you interested in visiting yourself! Just remember whenever you travel to be mindful of the environment especially in Greece. Greece has very low quality tap and drinking water so everyone drinks imported water from plastic bottles, be mindful to try and recycle if possible and maybe consider packing out back to Athens if you can't recycle on the island. Many people in Greece toss their bottles to the road or in fields so if you see any please pick them up and bring them to a proper disposal, scooters will have small storage spaces under the seats and cars have lost of room, or bring an extra bag if walking around! Safe Travels!