This past September I found myself traveling alone to the Faroe Islands, a sparsely populated set of 18 islands on the boarder of the Atlantic Ocean and Arctic Oceans. I was spending 7 days there with no set itinerary besides to reflect on everywhere I had traveled recently and everything I had learned. There is a lot of time for self reflecting when you're alone, thus I found myself needing to fill some time. Luckily for me the Faroe Islands combine some of my greatest like, hiking, beautiful landscapes, and lack of tourist trekked paths, which is why I choose here to be my last stop of the trip. 
Now something you may be shocked to hear about the Faroese people is they're relatively new to hiking! Yes, hiking in the Faroe Islands is heavily influenced by foreign cultures that have recently started to visit the beautiful Islands and saw it as a great opportunity to hike some less trekked land. Since then it has become more popular among the Faroese, however as tourism is increasing paths are needing to be made and trail maintenance is being implemented leaving hikes that may have been free at one point to cost money. This has negatively impacted many Faroese because what once was their backyard now has a fee to be viewed. Often there are discounts for the citizens here but as tourism increases these may soon vanish. The infrastructure of these islands are just not set up appropriately for an influx of tourism, so be mindful and minimal when visiting places like this. Even consider joining the new Closed or Maintenance a voluntourism initiative that can be found at visitfaroeislands.com.
Okay... Now without further ado let's getting into some hiking you should consider when visiting these islands! This is just to serve as a quick introduction to see what hikes you want to do, I would suggest searching the individual hikes if you want more details such as duration, exact location, etc. If you require more information beyond that I highly recommend looking at the visitfaroeislands.com website where they have a hiking guidebook that has some great detail but can be a lot to shift through. I am going to break this down by Islands that way you can organize which hikes to do which day and what island to stay on, overall help streamline some planning hopefully.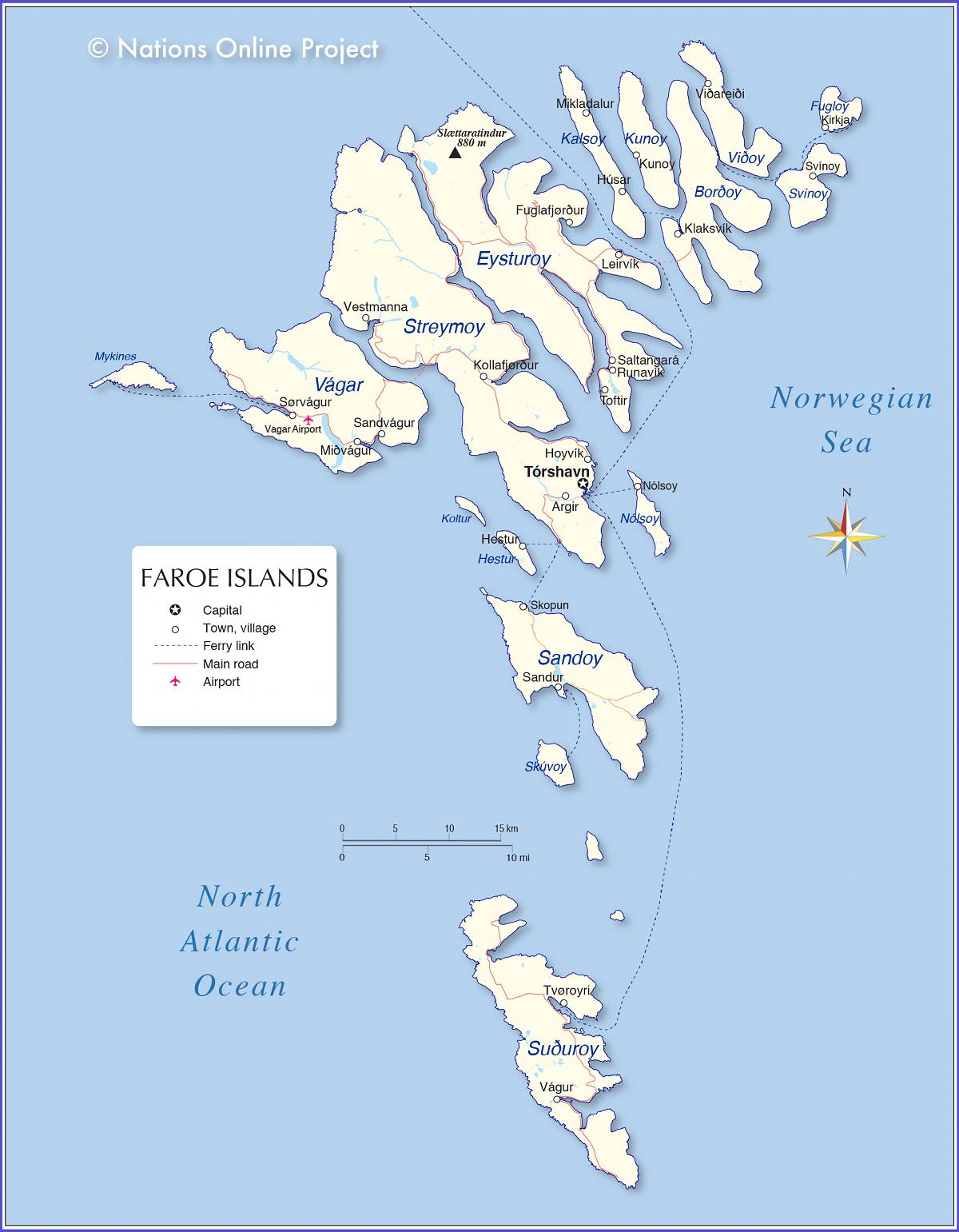 credit: the nations online project for the image
VAGAR:
I'm starting with Vagar for a couple resaons, 1. this is where you will fly in and out of so it is a great place to start you're trip and catch a last minute hike if you have a plan to catch that day and 2. It is packed with hikes, and many of the popular ones!
Postman's Trail: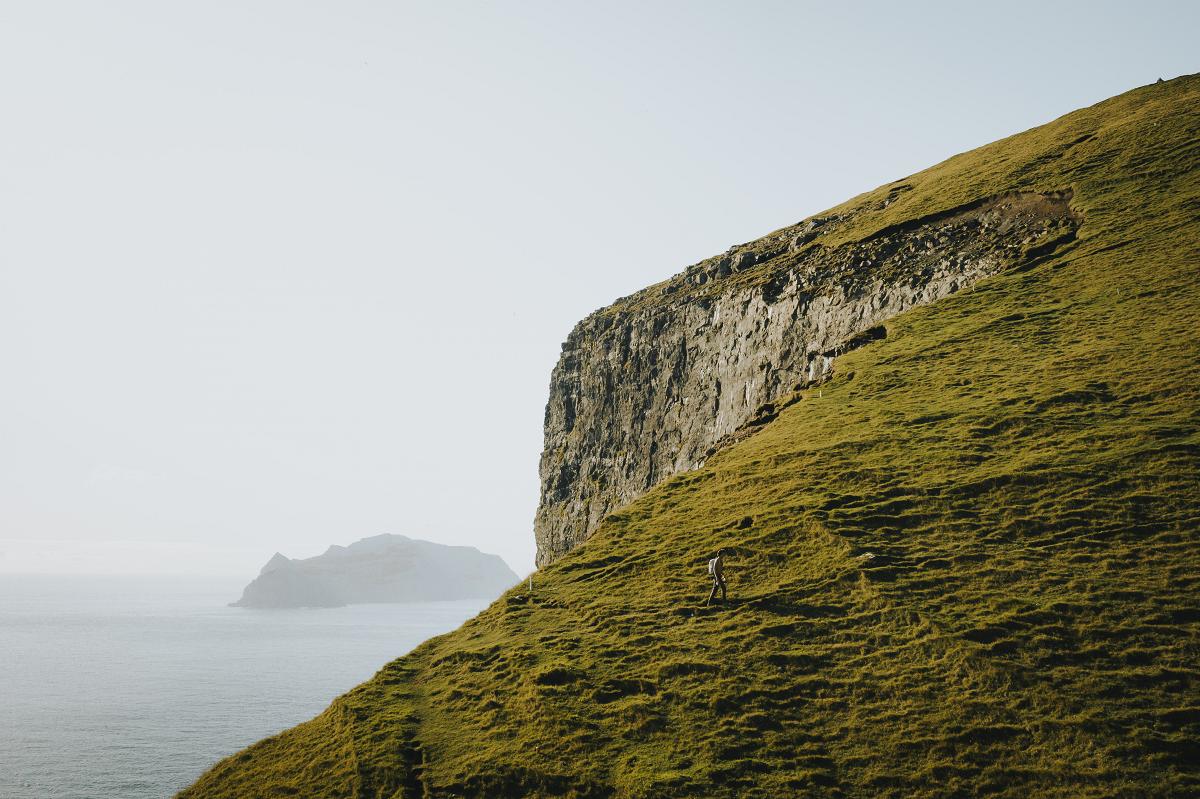 This is a historic hike on Vagar, and not because of the amazing views it gives you. Originally, there was no way to get from the town of Gasadular to the rest of Vagar. In order to leave town one needed to walk over the hill. Thus the trail received its name because the postman would deliver mail three times weekly to the town of Gasadular via this route, that is until 2004 when a tunnel was carved and now one can drive to Gasadular. I recommend doing the scenic route, I did both the hike first and the drive on a later date.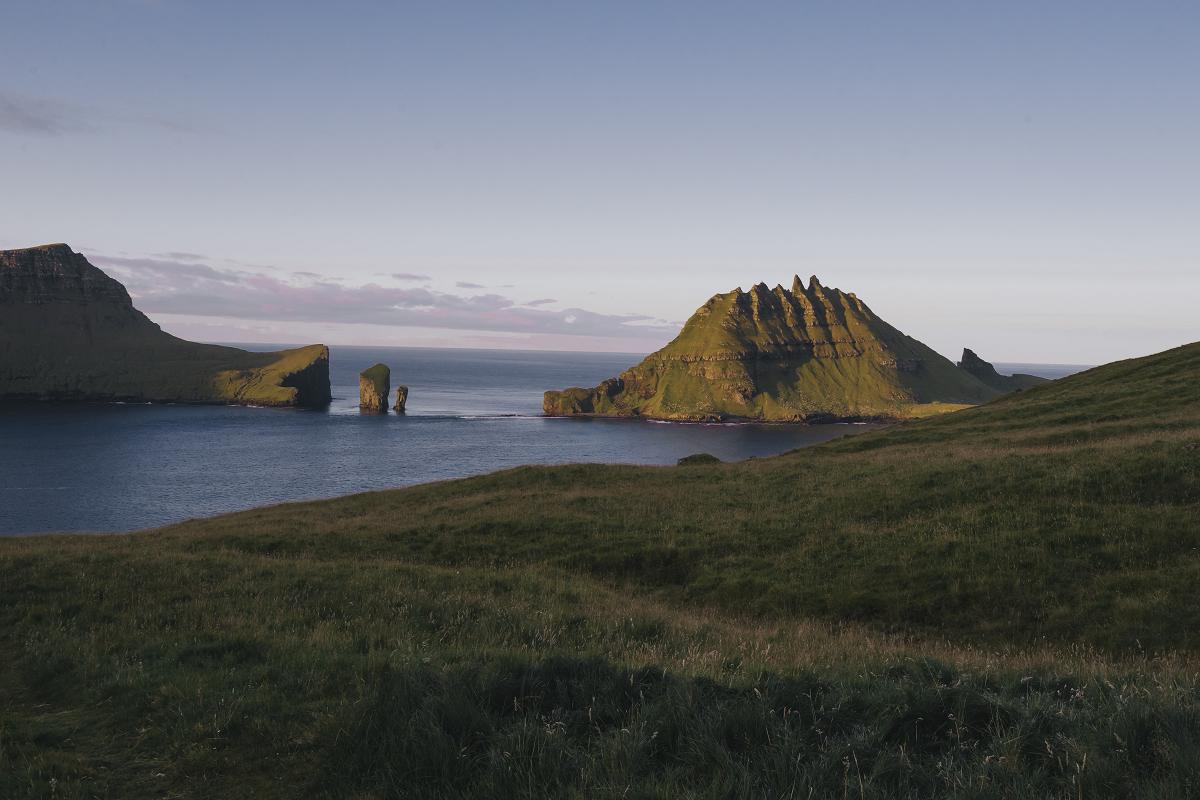 On this hike you will be guided by a small wooden stakes until you get to where is flattens out. From here there are cairns (rock stacks) that can be used especially in the heavy faroese fog. If you're lucky and go on a clear day you will have views like these of Tindholmur and Drangarnir. 
Once over the top of the trail you will instantly recognize the famous waterfall in the town of Gasadular. After snapping some pictures there I would suggest going to Uanni the location of the original postman's station for some local knowledge and items, they have no set hours just knock. If you stay for sunset it is easy enough to hitch a ride back to your car from anyone else that is there as well and it is well worth it.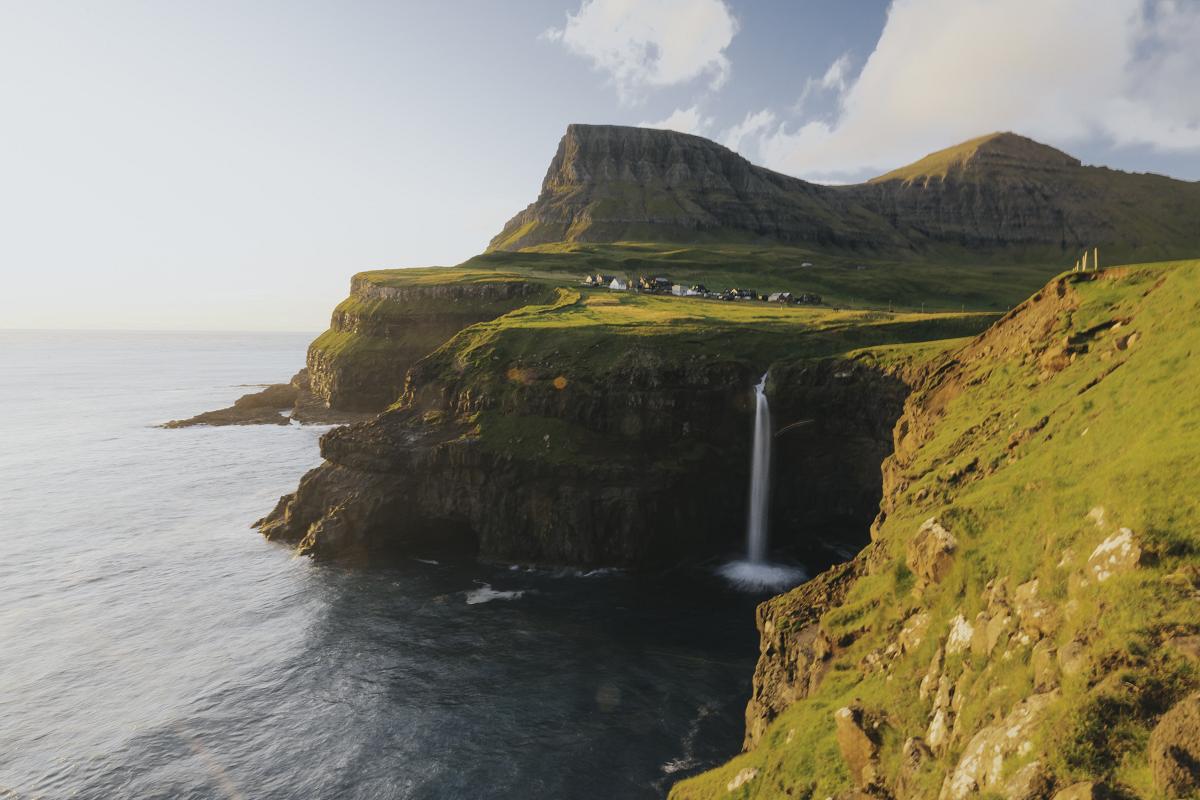 Drangarnir: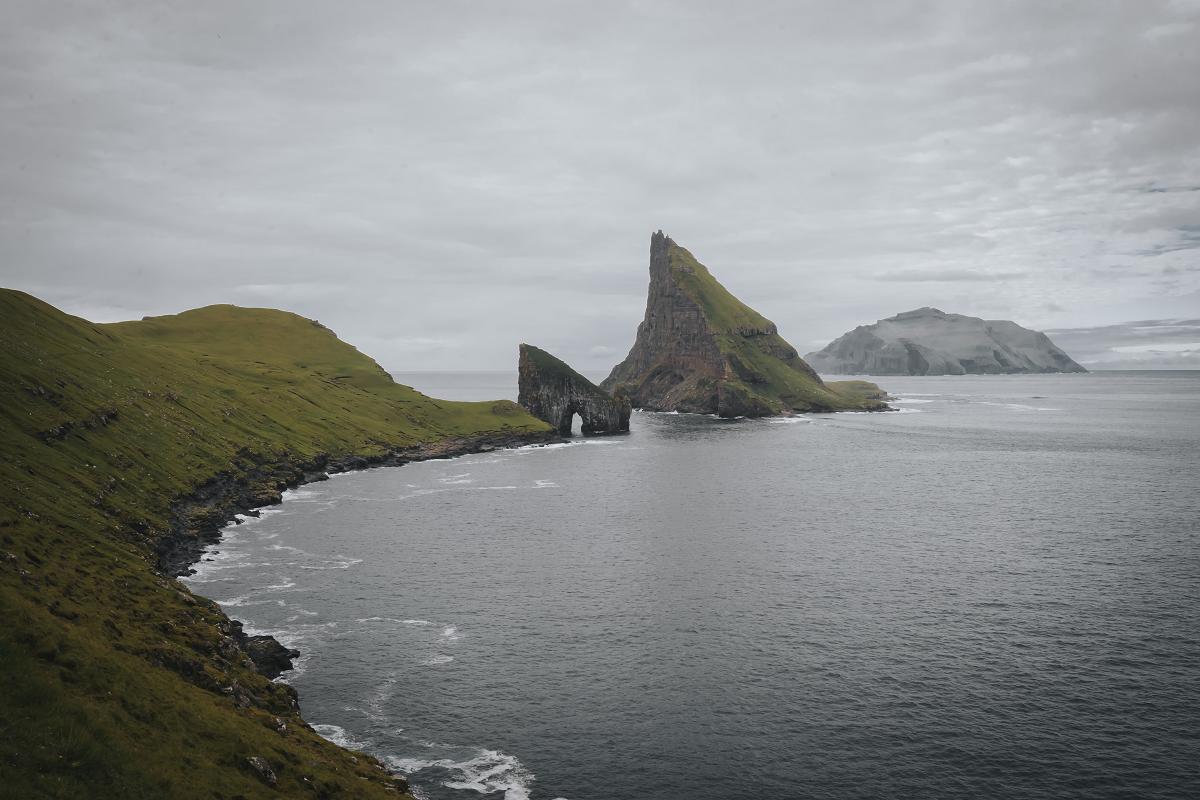 This hike is an example of one that use to open to the public but now it requires a guided tour as it cross over a couple pieces of private land and breeding grounds for sheep. You can take a boat tour to the sea stacks but it isn't quite as earned. If you've ever seen pictures of the Faroe islands it is likely this is one of them that you've seen and for good reason its incredible. As you walk mostly on a narrow flat but slanted path you will eventually start to see these sea stacks appear in the distance a reassuring sight. Some people choose to go up the tallest peak on the point near the sea stacks to give you a great perspective. You can also go down low and view from beneath on a rock shelf of a "beach". Either way definitely wear some water proof boots as it gets very muddy on the trail especially after a bit of rain. Also hope for clear visibility or bring a light source of some type, there are no cairns on this trail.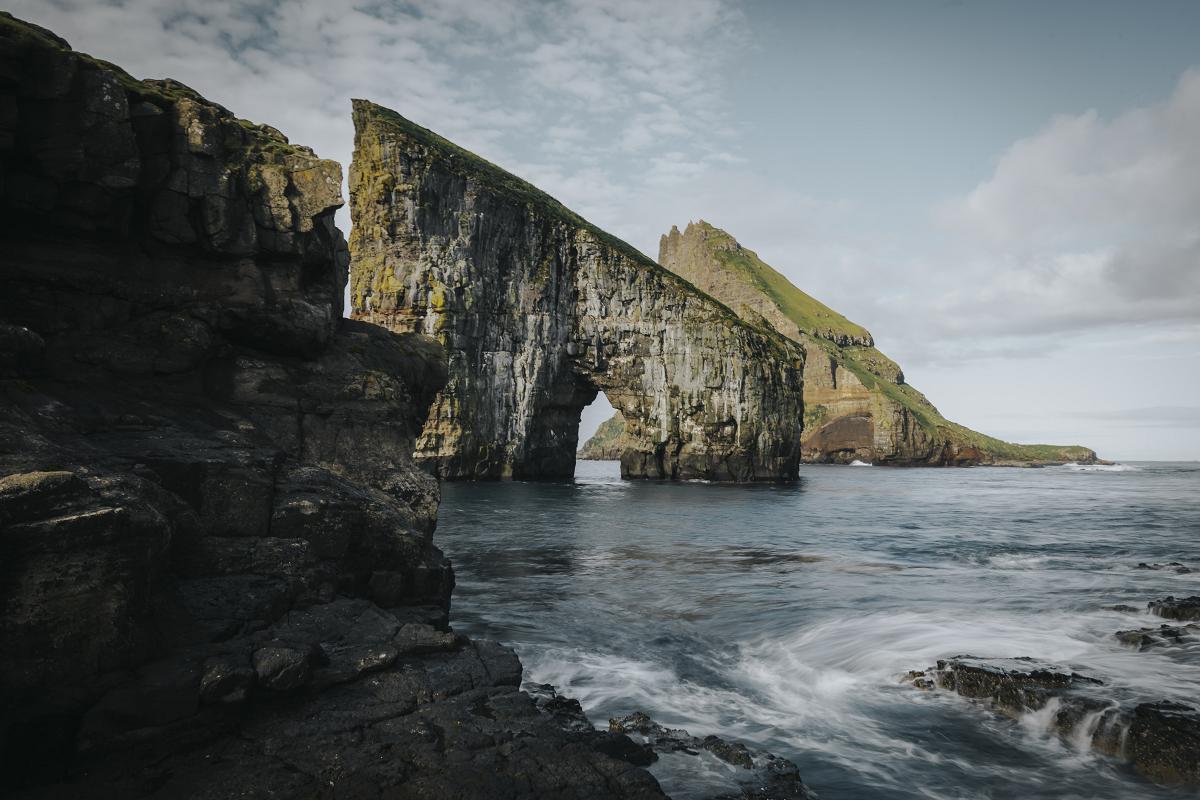 Traelanipa (The Lake Above the Ocean):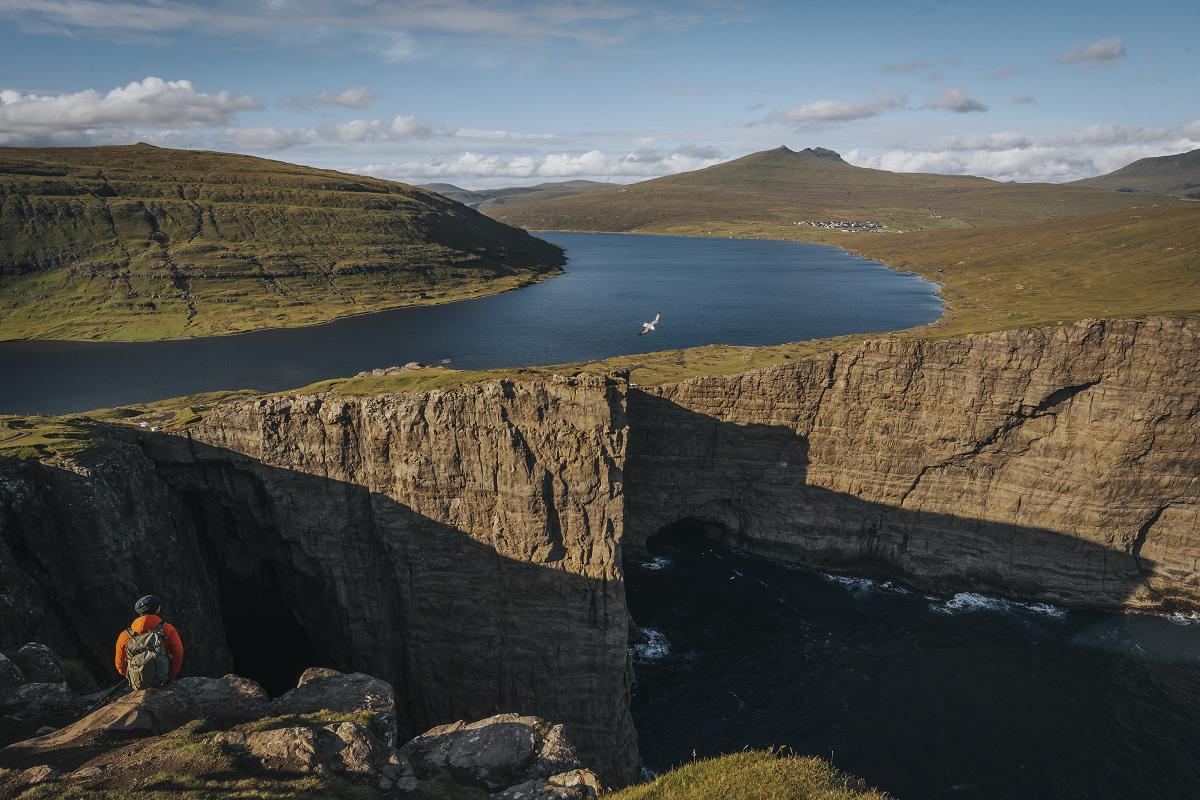 This is another hike that was once free to the public and faroese people and now is the most expensive hike I came across. This is for a couple reasons, they are creating a proper trail and restoring the low trail from being walked on so much, personally it seems fine. However, you do get free coffee and hot chocolate post hike in the little hut that is set up at the beginning. Overall this is a very easy hike almost more of a walk and can be done very quickly or take some time. It is famed because when you go up the right side there is a spot that makes it look as if the lake is floating to say above the ocean, it is in fact not and is just an optical illusion. If you continue on the path you will get to a point where the lake drains into the ocean via a waterfall well worth the extra 20 minutes or so.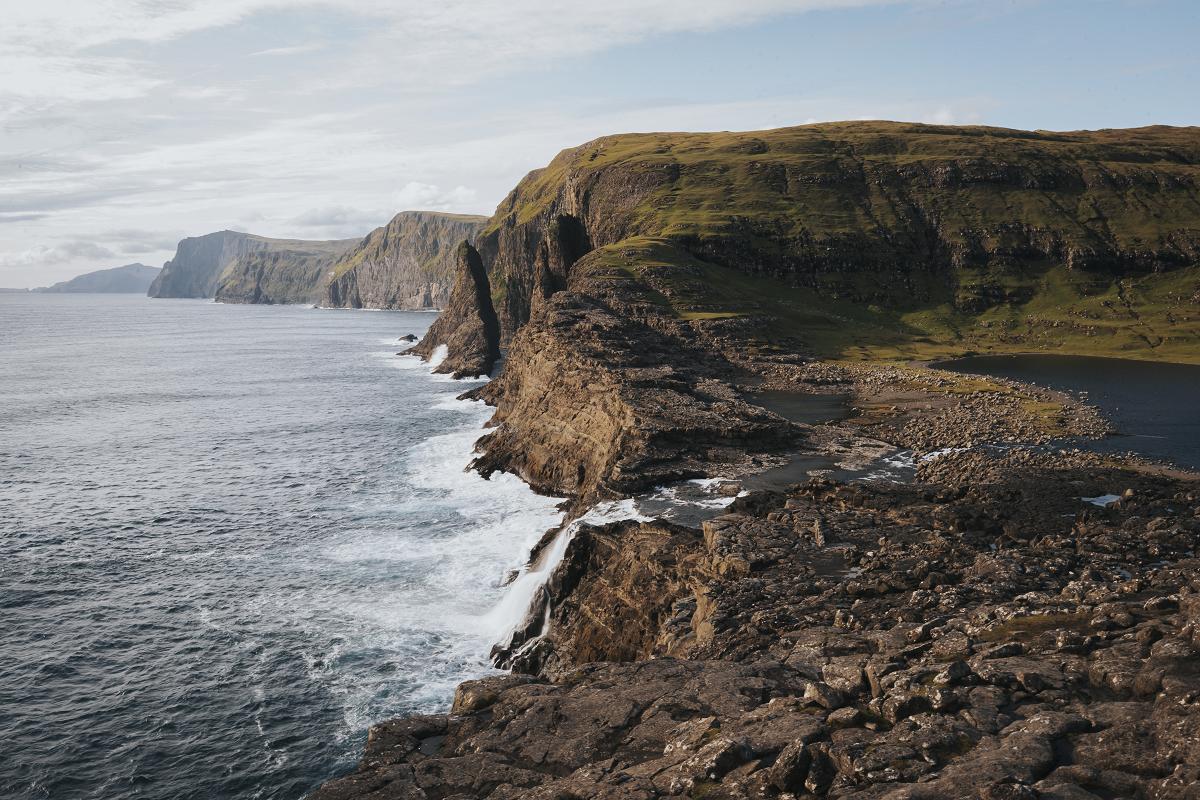 Vatnsdalsvatn Lake: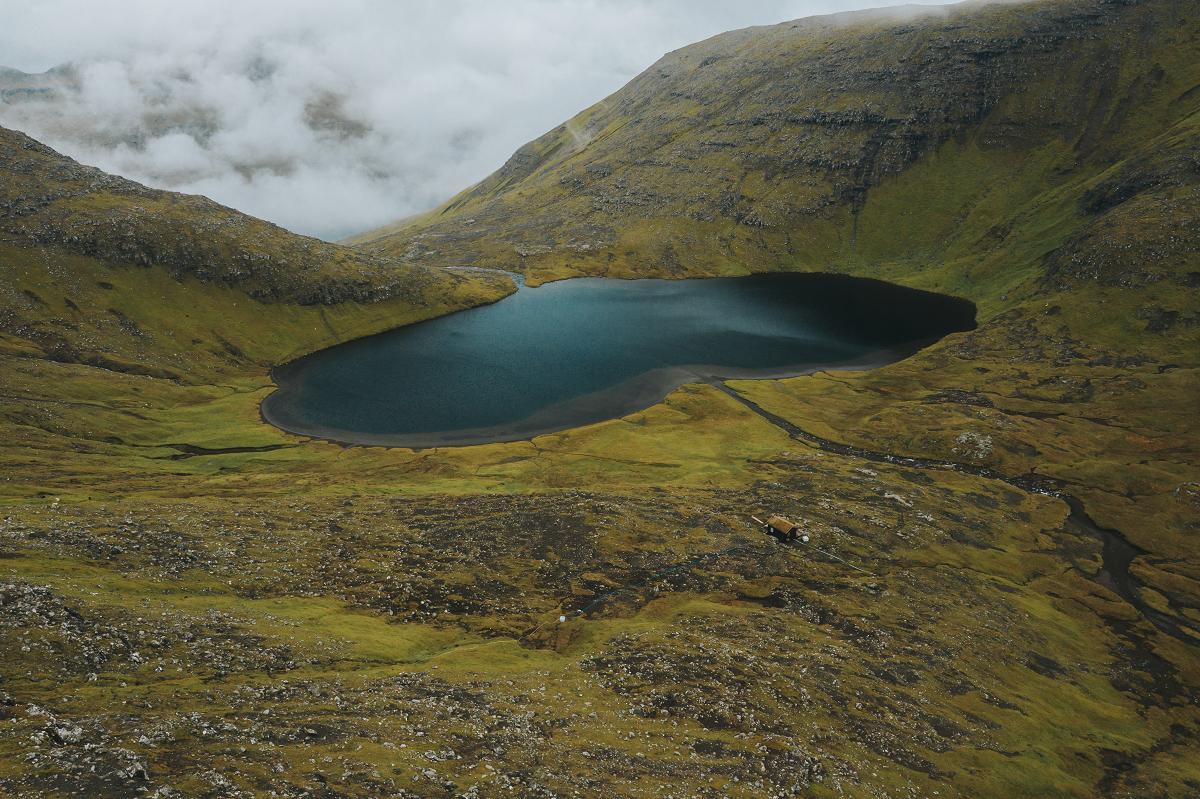 This hike starts just outside of the town Bour, also worth a visit. The hike isn't the most well marked trail but it is pretty straightforward just follow the water and eventually it'll open up a bit and you should be able to follow the cairns from there. It is mostly vertical although not a long hike can still be wearing on some. The lake is best viewed form above if you want to really achieve the effect of the heart shape. This can be done by appropriately finding a higher vantage point or by tossing up a drone, remember to be mindful and respect the local animals and bird when flying around the Faroe Islands.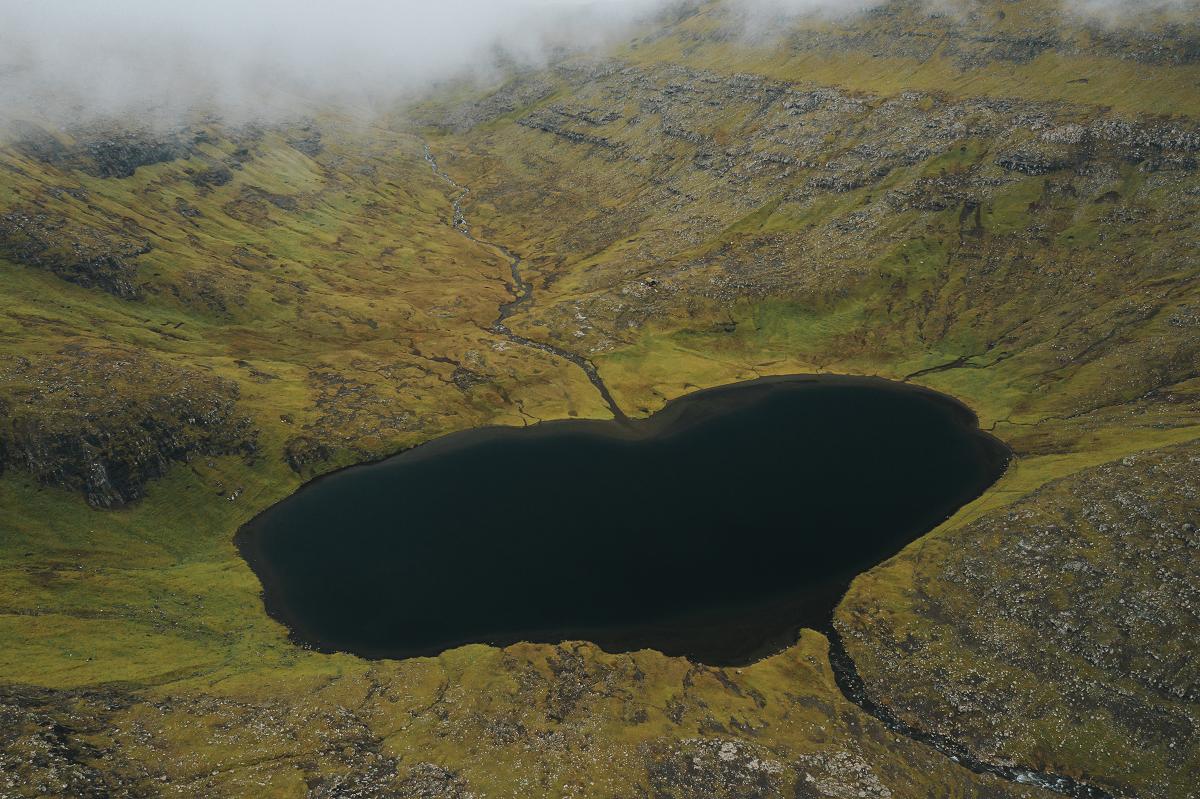 Trollkonufingur: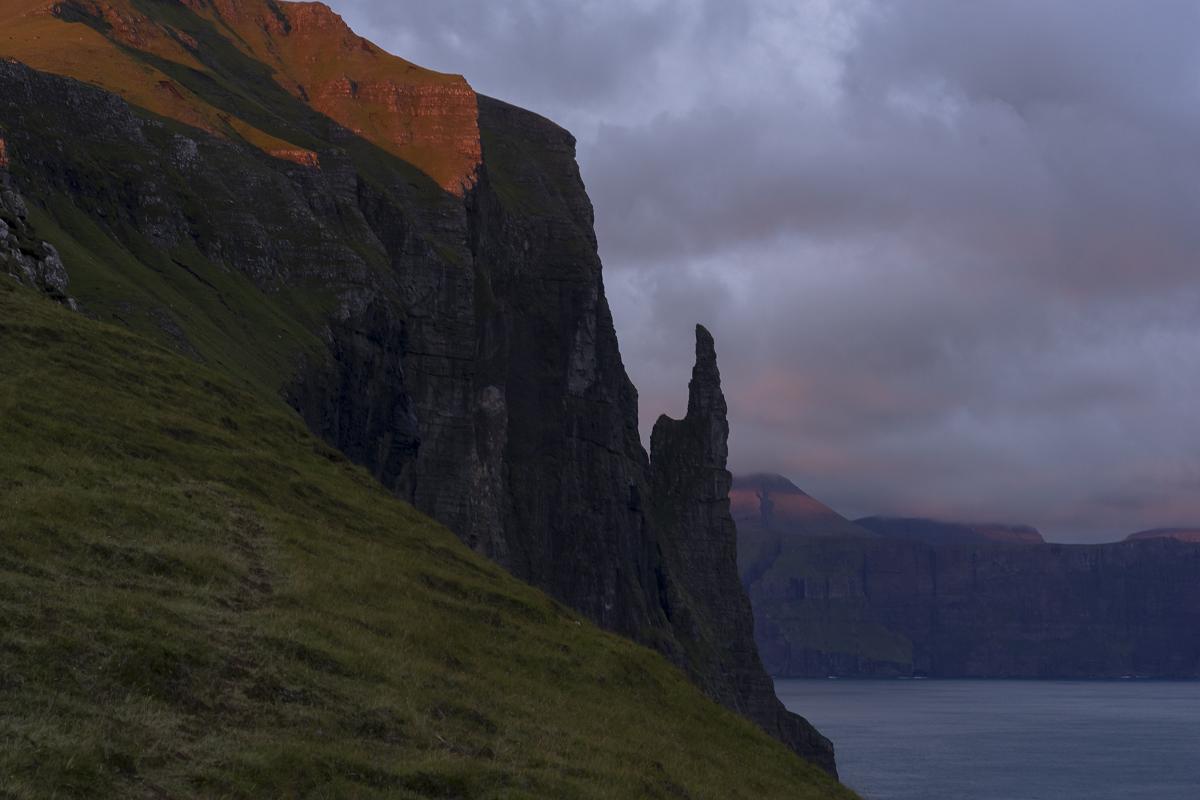 This is hardly a hike as much as it is a viewing spot that has a slight walk to it with minimal incline. But it is an important sea stack to see as it ties into the faroese folk lore. The tale is that a witch had come to throw the Faroe Islands back to Iceland. When she eventually reach the sea south of Vagar the sun was rising and turned her into stone! She fell to the bottom of the sea floor but being so large her finger stuck out above the surface as well as the back of her head. Her head now makes the island of Koltur. 


Fjallavatan:
This hike leads you to the largest lake in the Faroe Islands. Its mostly a flat walk and relatively easy until it comes to walking around the lake. I unfortunately do not have much personal experience on this hike as weather caused me to have to turn back after reaching the lake, I never made it all the way around. Let me know if you did! The black beach looks amazing here.


STREYMOY:
Saksun: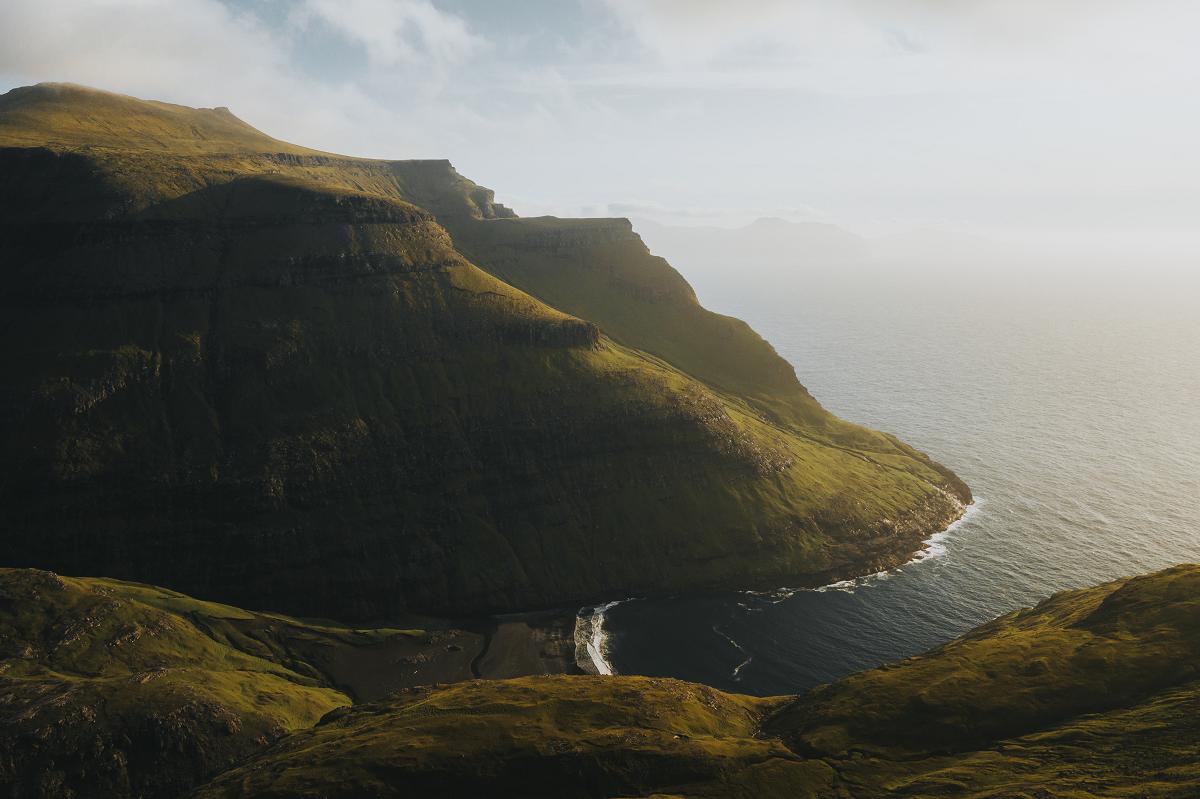 This was one of my favorite hikes on the Faroe Islands because of the diversity. Again this is a hike that needs to be paid for, on both portions. So there is the hike portion which isn't too pricey but has very short hours which exclude being there for sunset... unless you schedule in advance for a much higher price. The lower section is beach access which is quite nice and just a tad more than the hike, yeah I'm not sure why either. This hike has the potential to bring you to a viewing point of the witch and her troll husband or just of the beach below. 
This is a very muddy and wet trail as there are many streams running down the hill constantly. There is also a semi large waterfall on the trail that will be a good marker for you. Overall the trail is relatively well marked and you will be following cairns once again. If you are bad with following trails I would suggest a guide if you hike often you should be able to figure it out just keep the maps pulled up.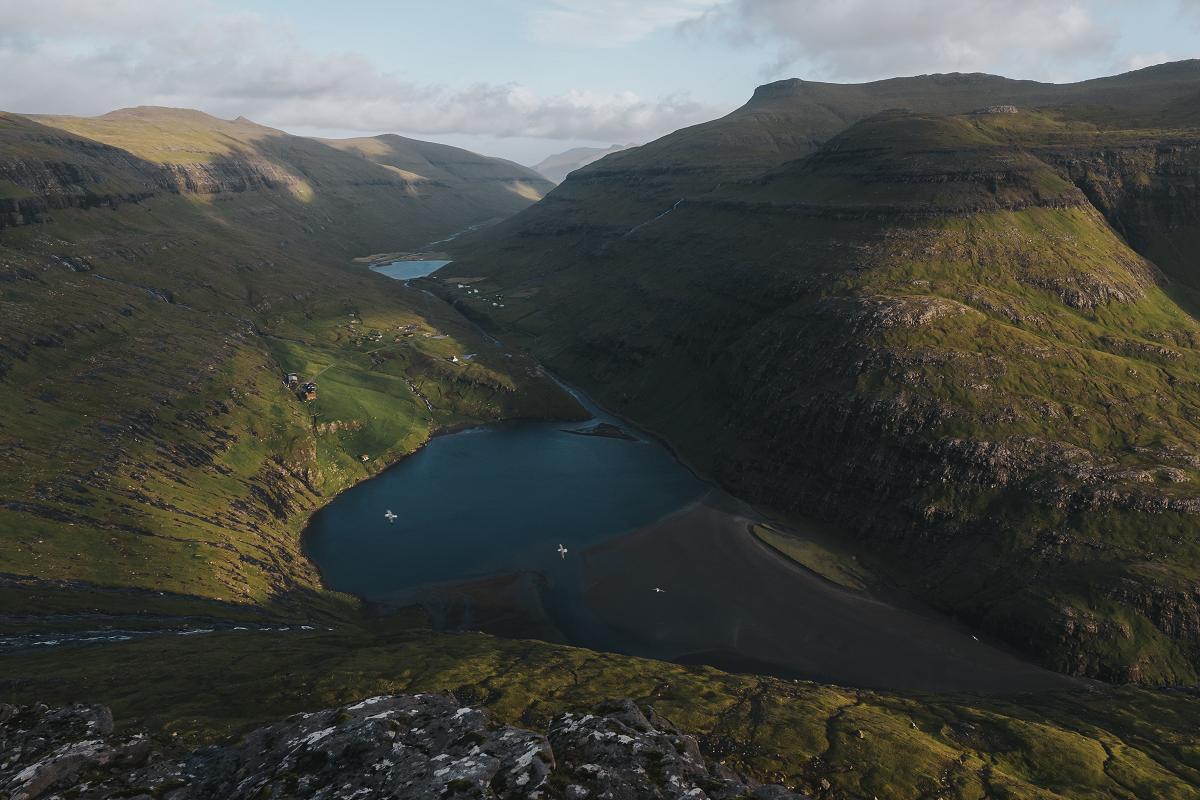 The lower portion of the trail can be seen in the above picture, it goes around the lake and onto the beach which extends for awhile. It is best trekked on low tide so there aren't any water flows occurring between the beach and the lake.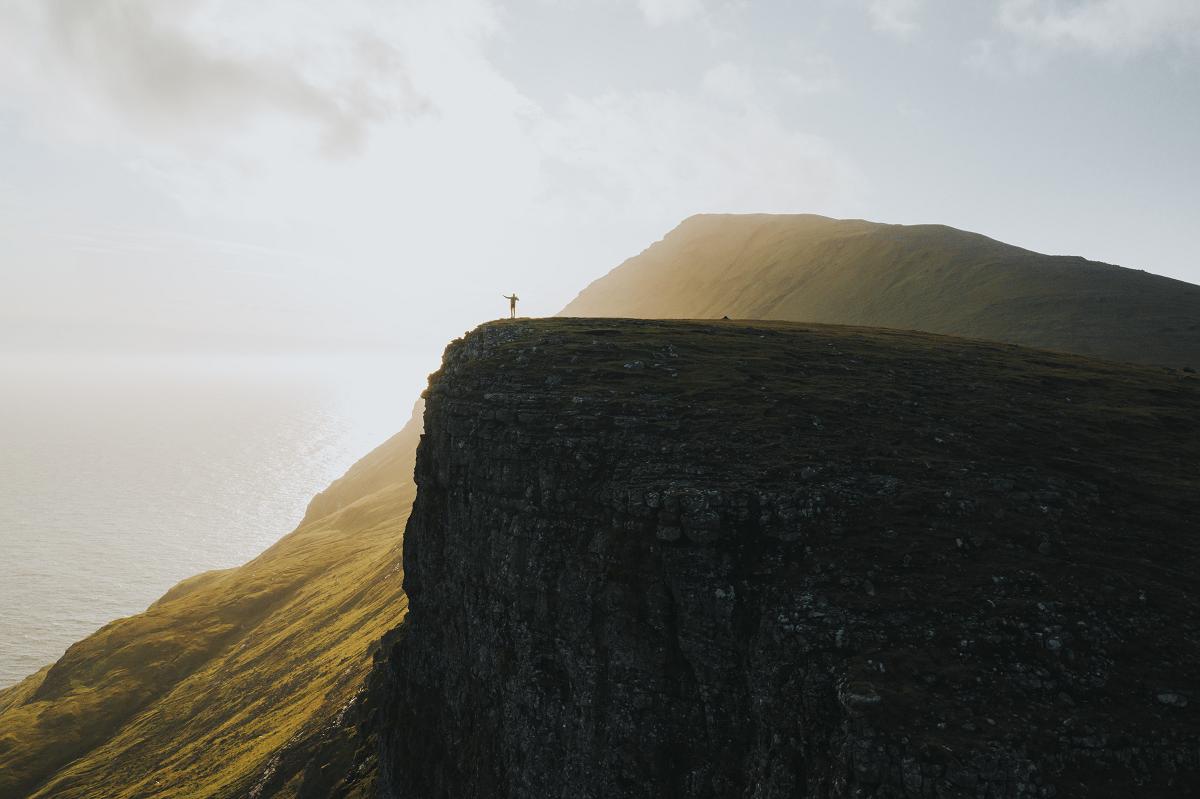 EYSTUROY:
Gjogv: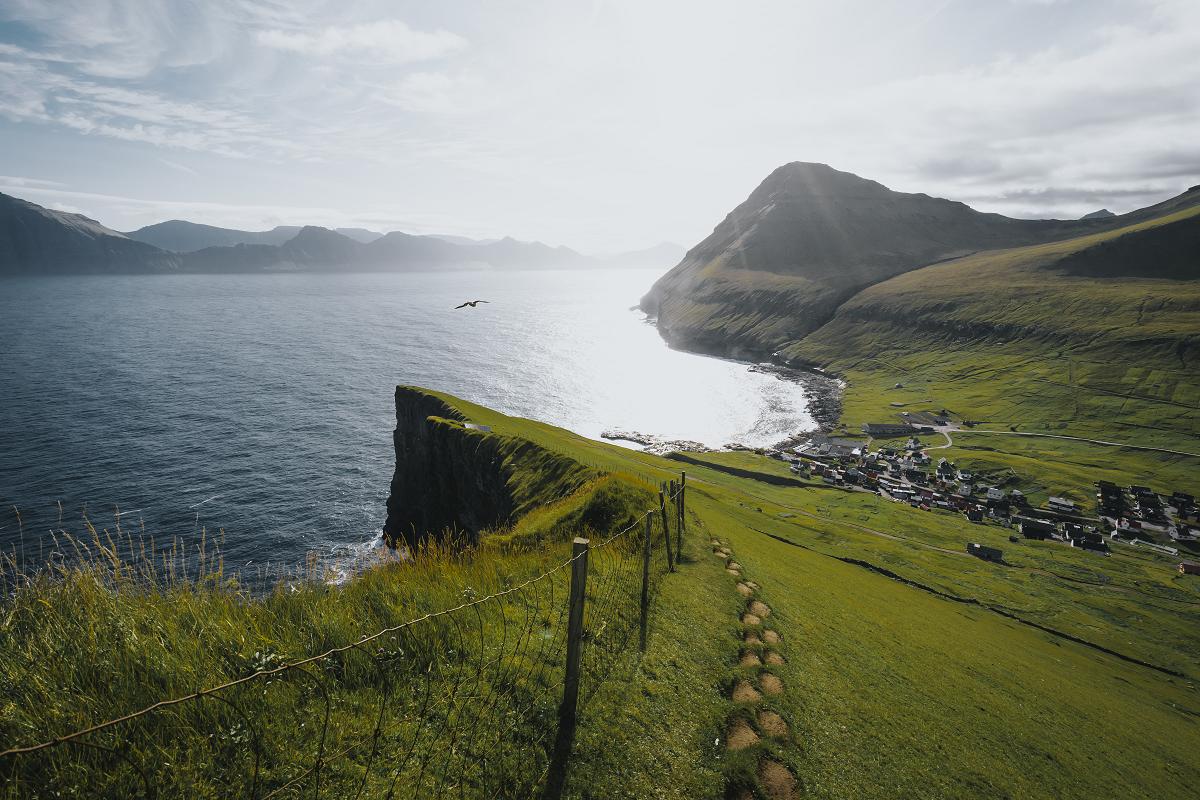 There is a well known landmark in Gjogv that people come to see but just above that there is a beautiful hike. Recently stairs have been built into part of the beginning of the hike. Its run on the honor system payment wise, either deposit cash into the drop box or wire transfer the property owners.The hike has these perfectly made footprints on the way up that create some amazing leading lines for photos and some great cliff views as well. It is a bit more on the vertical side but nothing overly strenuous. 


Slaettaratindur: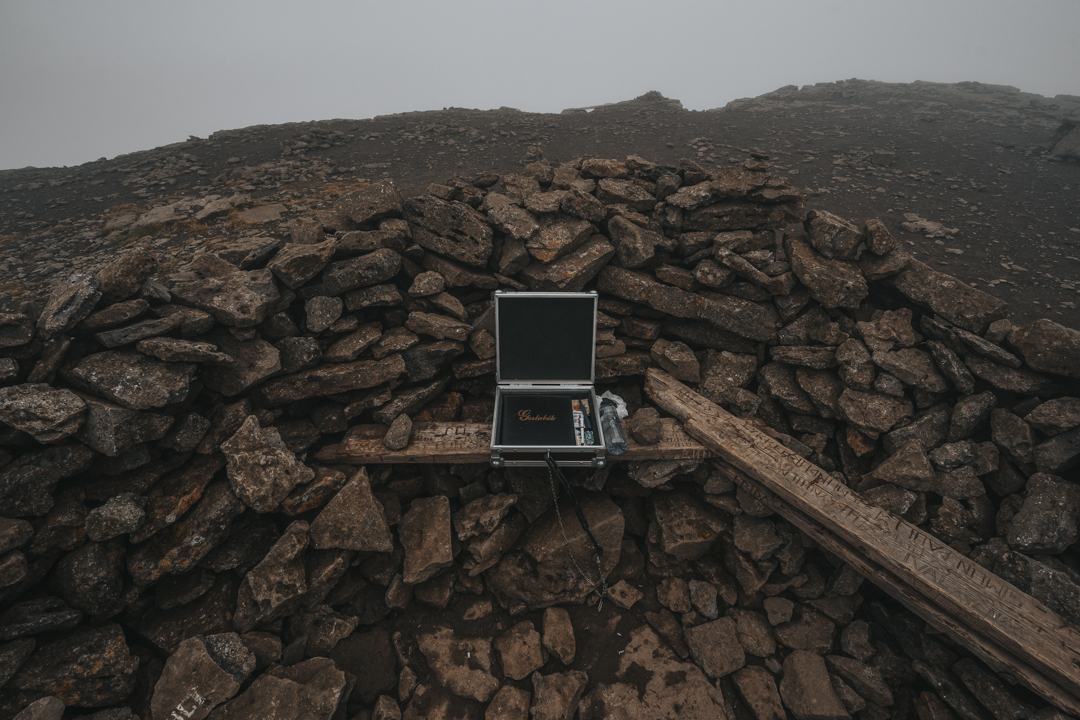 This is the tallest mountain on Faroe Islands and I'm sure it has spectacular views, however the faroese fog caught hold on this hike and turned the visibility next to nothing. It is a must do if you're visiting solely for the purpose of it being the highest, there were amazing views of the way up as well. It is a more challenging hike as it is almost a completely vertical climb for greater majority of the hike. It is a nice rewarding hike as it does give you a level of accomplishment once ascended. There is a book log at the top where you can see every past hiker has dated and written their name and where they are from. Also, some people will put refreshments there for the next hiker, a great tradition to continue.






VIDOY:


Villingardalsjall: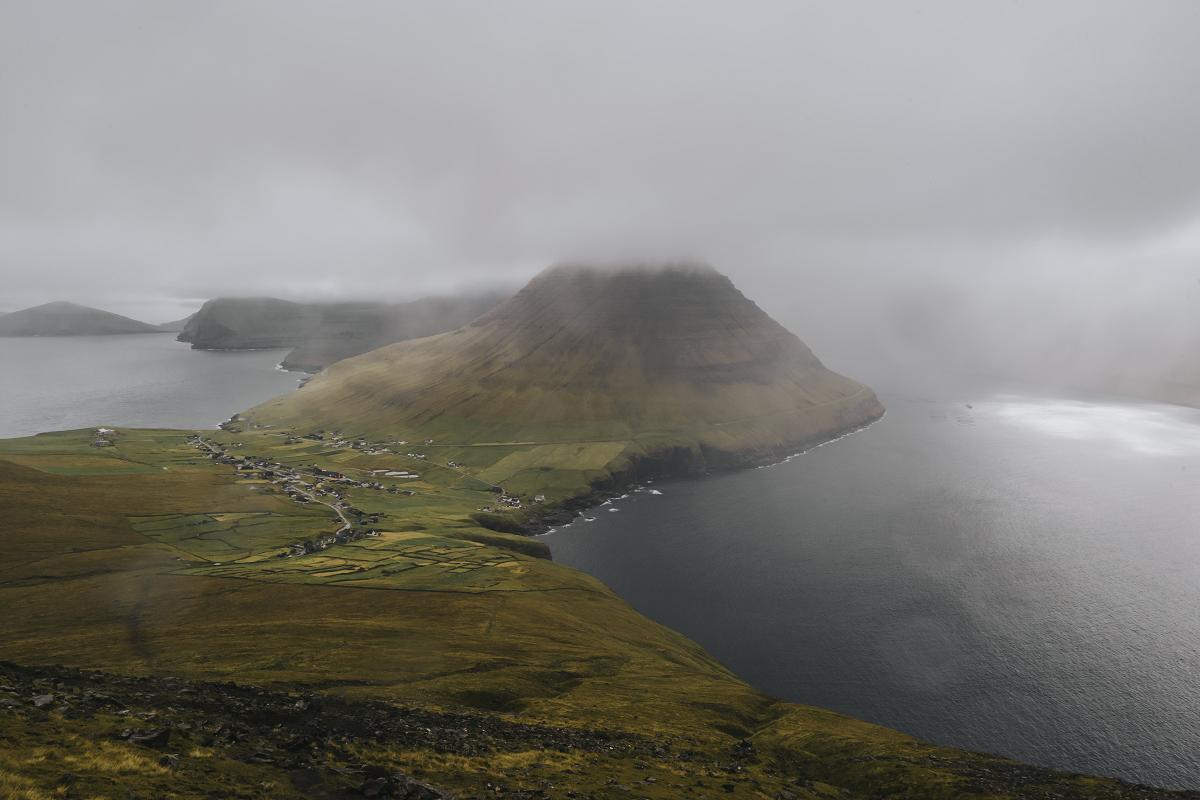 This hike is on one of the furthest islands and thus many may not make it here, personally I thought it was well worth the drive. There is another pay box here operated on the honor system. It may get hikers attention to know that it is considered to be the Faroe Islands' most challenging hike. During the hike you will definitely think its challenging but based on the view ahead may doubt that its rated the most challenging. I thought this about three times before each time going oh wait there is more? Its awfully deceptive as to where the top is and when you get to the rocky portion it is hard to find the blue poles marking the trial especially when the rain and fog sets in. Any way it was worth pushing through the weather to reach the top and turn back down. The views which are gorgeous are best viewed on sunny days but something about the faroese fog hold true beauty as well. 
Overall, hiking on the Faroe Islands is exceptional. It is extra wet and muddy and not fully maintained but the rawness was the best part. Everyone you meet on hikes, which can be very limited, are extremely friendly either locals meeting new people or travelers there for the same reason as you. Hopefully this has helped you pick some hikes to do on your journey to these islands. And remember to always be respectful of the land and the animals, the sheep and birds are on every hike.